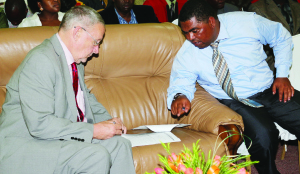 VICE-PRESIDENT Guy Scott has told people of Itezhi-Tezhi Constituency that the Patriotic Front (PF) will adopt area Member of Parliament Greyford Monde if he is expelled from the United Party for National Development (UPND).
Dr Scott said he was ready to personally go there and campaign for  Mr Monde once the opposition UPND ejected the parliamentarian.
Speaking at a rally on Itezhi-Tezhi Up Hill Primary School ground, Dr Scott said there was no point in voting for the party that was waiting for power.
The UPND MP is currently at loggerheads with his party after he accepted the deputy ministerial position in the PF Government.
"Greyfrord Monde came to Government to lobby for development of this area and we gave him a position in Government, but his party is trying to chase him. Why? If they chase him you will support him on the PF ticket," he said.
Dr Scott said there was no point in voting for a party that was just waiting for power and might even wait for 20 to 30 years.
"And if MMD came here to take the seat why would you vote for them even where they come from in Lundazi, they can't win?" he asked.
The Vice-President said PF had brought back the business of development and was not interested in tribalism.
"We are not interested in making noise for nothing, we have come to catch up with all those things which have fallen behind," Dr Scott said.
"We have come to bring you schools. We have come to bring new hospitals, and clinics. We have come to bring wards update, especially the 109 kilometres that's the most important road in this district."
He said construction of the road had been designed, tendered, and the contractor had been selected and works were set to start this year.
Mr Monde said he agreed to serve in PF because he wanted to bring development to the constituency.
He said he never went in Government for money but to lobby the Government to bring development to Itezhi-Tezhi.
"What the people of Itezhi-Tezhi want is development; they will not eat politics or a Constitution. What the people of Itezhi-Iezhi want are schools, hospitals and good roads," Mr Monde said.