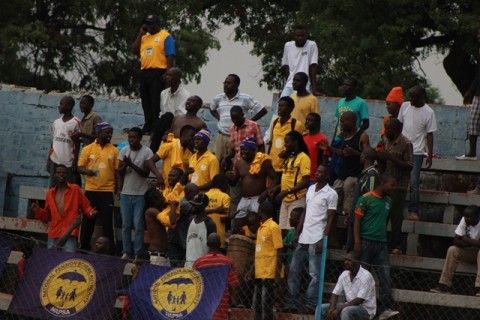 THE Football Association of Zambia (FAZ) has called on Nkana fans to be at their best behaviour when their Kitwe side goes into the Confederation of African Football (CAF) Champions League football as the continental body does not condone crowd trouble.
Speaking in an interview, FAZ spokesperson, Erick Mwanza said should the Nkana fans riot when the club was engaged in continental football, CAF would not hesitate but throw the Zambian team out of the competition and subject it to a ban.
Mwanza urged the Nkana executive committee to extensively educated the fans on this matter so the club and the FAZ keep out of trouble with CAF.
"CAF takes no prisoners. Once there is crowd trouble, they are swift on throwing the team out of the competition and that is what we do not want to see.
"But otherwise, the Nkana fans are great lovers of football and we expect them to be behind the team in the continental quest," Mwanza said.
Nkana, the all-time Zambia leading league winners with 12 titles, have seen fans, not used to poor showing and losses, engage in violent which has resulted in their Nkana Stadium twice being closed on that account.
But with success coming to Nkana stadium, the fans have rallied behind the team with crowd-trouble looking like a thing of the past until late last season when they clashed with their rivals at Konkola Blades in Chililabombwe.
The stone-throwing escapade resulted in the FAZ Disciplinary Committee sanctioning Nkana and Blades with fines and ordered that they play the last two games behind closed doors, a matter that was challenged.
Mwanza said FAZ and the Zambian football fraternity were not expecting such behaviour from Nkana especially in continental football.
But while advising caution to Nkana fans, Mwanza said FAZ expected Kitwe giants to be well drilled as they went into continental football, a territory they have not touched in 12 years.
Nkana last played continental football in 2002 after winning the league with Patrick Phiri in 2001.
With rookies then in the team like Chipolopolo defender, Joseph Musonda and the ejection from continental football that year seemed to bring a downward spiral to the club.
Nkana later twice got demoted to Division One but later clawed back.
The unfamiliar territory of playing Division One football  and losing at home to teams like Kalewa just brought out an ugly side of their fans.
Nkana are however the only team to have reached the final of the now rechristened Champions League after losing on penalties to JS Kabilye of Algeria.
Times of Zambia