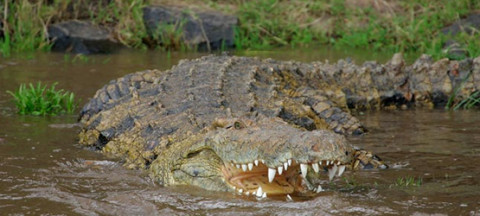 –A Thirteen year old boy of White Village in Chief Mwanya's area in Malambo valley in Lundazi district is battling for his life in Lundazi District hospital after been attacked by a crocodile.
Uncle to the victim, Benson Muma  who was found on the bedside nursing his nephew  (James  Chamamba)  confirmed the incident to ZANIS  in Lundazi, saying the incident happened over  the weekend  when  James and his cousin Herold Chikonde went fishing in Mnyamadzi river.
Mr Muma said that whilst the two were fishing, a crocodile emerged from the river and caught James on the right leg and dragged him into the deep water.
He said immediately James was caught he shouted for help and his courageous cousin Herold Chikonde jumped into the water, got hold of him and started pulling him towards the shore while he too shouted for help while at the same time, the beast was pulling James into the deep water.
Mr Muma explained that while the tag of war ensued, James's friend also arrived with missiles which included stones, marbles and sticks that he started throwing into the river to scare the crocodile.
Fortunately the human fight emerged victorious resulting in the rescue of James who was by then had sustained a broken leg and deep wounds all over the body.
A source at Lundazi district hospital has described Jame's condition as stable and out of danger and that he was responding well to treatment.