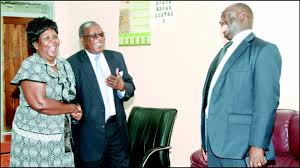 Newly recruited government workers in the newly created Luampa district in Western province have not yet been put on government payroll.
Addressing civil servants in Luampa at a meeting held in the Evangelical church in Zambia chapel yesterday, Provincial minister Josephine Limata urged the workers to carry on with their duties and assured them that her office will facilitate their salaries to be out without any further delays.
Ms Limata urged over 70 civil servants to show love, unity, respect and support the government of the day in order to foster development in Luampa district.
She said government workers should not despair as the Patriotic Front government was in a hurry to work and bring the much needed development to Luampa and the entire Western province.
Ms Limata said President Michael Sata has shown great love for the poor people of Western province by creating nine more districts that has seen many people employed resulting in more money in people's pockets.
And Luampa Acting District Commissioner, Mwanangombe Musokotwane complained that his office was facing challenges of feeding the over 23 civil servants who are not yet on government payroll among them drivers and office orderlies from various departments in the district.
Mr Musokotwane said the majority of the affected government workers were coming from different places where they could not go and get food adding that they don't have relatives in Luampa in order to be assisted.
He said agent measures should be sought by the provincial administration in Mongu so that those civil servants who are not yet on government payroll will not face starvation.
Meanwhile, Ms Limata has allocated K100, 000 from the 2013 Constituency Development Fund (CDF) to rehabilitate Kahumbu local court and Lui primary school in Luampa district whose roofs were ripped off by strong winds last year.
She has since requested the council management to ensure that the CDF monies will be given to committed contractors as the funds belonged to the community of Luampa.
Ms Limata complained that all the schools that were built recently by local contractors in Western province have not seen the test of time as all the structures are either blown off or collapsed leaving those schools that were constructed in the first republic.
She said the poor supervision by the ministry of education management in the province has deprived many children from accessing quality education while some school projects have stalled.
 ZANIS