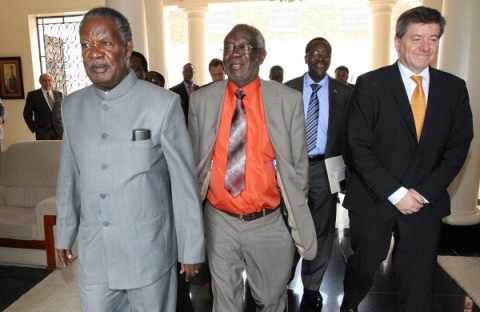 His Excellency Mr Michael Chilufya Sata,
President of the Republic of Zambia, this morning held a closed door meeting with the
Director General of the International Labour Organisation [ILO], Mr. Guy Ryder.
During the meeting at State House, Mr. Ryder explained that the essence of his visit to
Zambia was to consolidate the relationship between ILO and Government as social partners.
The ILO Director General also took note of President Sata's call for practical interventions
to address unemployment.
Earlier, President Sata stressed the need for ILO and the Ministry of Labour and Social
Security to work together and develop practical strategies for employment creation for the
country.
"The levels of unemployment have reached alarming levels and there is need for us to
collaborate and adopt practical interventions to arrest the situation," he said.
The Head of State further said Zambia was a beacon of peace and stability and therefore
suitable for more investment, which would subsequently create more jobs and opportunities.
President Sata called for increased investment attraction activities in the country.
The meeting was attended by Labour minister Hon. Fackson Shamenda, who said Mr. Ryder
was in the country to launch the Green Jobs project which would see up 5000 new jobs
created as well as capacity building of up to 2000 small scale contractors in North-western
and Central Provinces.
Mr. Ryder will also witness the launch of the Zambia Jobs portal, an initiative under the
Ministry of Labour and Social Security.
Issued by:
GEORGE CHELLAH
SPECIAL ASSISTANT TO THE PRESIDENT
PRESS AND PUBLIC RELATIONS