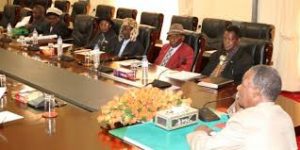 Government has reaffirmed its commitment to embrace traditional leaders as partners in national development.
Professor Luo says Government attaches great importance to the critical role that traditional leaders play in sustainable and social economic development of the country.
Professor Luo explains that Government HAS created a full fledged of Chiefs and Traditional Affairs specifically to bring on board traditional leaders to be part of national development and continue working with them as partners in development.
She points out that the core mandate of her ministry is anchored on rural development and promotion of the well being of rural people and all chiefs and traditional leaders countrywide should take advantage of her ministry as a vehicle for driving development in their respective chiefdoms.
She has since called on traditional leaders to promote the campaign against early marriages for the girl child in their chiefdoms and encourage girls to concentrate on their education for them to make a meaningful economic contribution in adult life.
And education Minister John Phiri says he has observed that the higher percentage of the population in Mansa comprised children and has since promised that government will construct a boarding A school so that most of the youth in the district can have access to education in the area