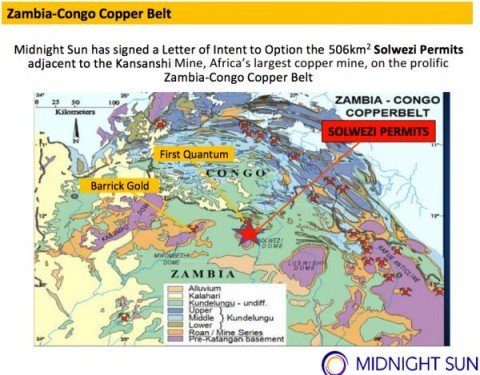 Midnight Sun Mining Corp. has announced the commencement of drilling on the Solwezi copper property in northwest Zambia.
The initial drill program is contracted for 3,000 meters of reverse circulation drilling ("RC") and will test several targets identified by previous operators. All targets are within 10 km of the Kansanshi mine, the largest copper mine in Africa, which is operated by First Quantum Minerals (FQM-T).
Solwezi Northwest: in late 2012, a previous operator reportedly intercepted 8.3% copper in a core drill hole from 19-38 meters below surface. Core recoveries were poor due to deep weathering of the rock. Re-sampling of this core as a part of the Company's recently filed NI 43-101 compliant report entitled "Technical Report on the Geology and Exploration Summary of the Solwezi Group of Prospecting Licences" (available on the company's website here) confirmed high grade copper in the core.
The current drill program will attempt to validate this historic drill intercept and test the surrounding area for additional zones and continuity of mineralization. Soil sampling conducted by Midnight Sun in October 2013 expanded the anomalous area around the discovery hole and delineated additional copper anomalies several kilometers to the south.
At Solwezi Northwest a recently completed geophysical survey using an electromagnetic system (NSAMT), which has been employed successfully at the Kansanshi Mine, indicated the presence of conductive horizons underlying the drill and soil geochemical anomalies found to date.
Kifubwa Copper-Nickel Anomalies: in 2010, a previous operator outlined significant nickel and copper soil anomalies overlying the favourable Upper and Lower Roan Formations which host numerous deposits in the Zambian Copperbelt including the new. These anomalies will be drill tested as part of the current drill program.
All drilling will be carried out by Layne Drilling, a world leader in RC drilling, and assaying will be done by Genalysis Laboratory Services, an accredited lab located in South Africa.
Qualified Person: Adrian Karolko, P.Geo, a Qualified Person under NI 43-101, has reviewed and approved the contents of this release.