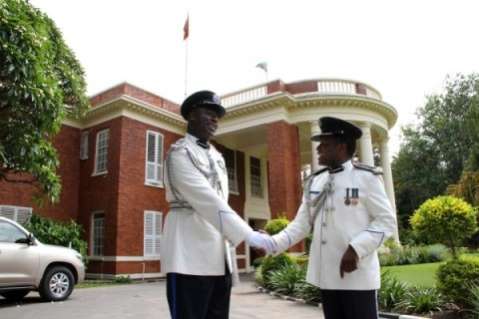 GOVERNMENT in September raised K2.4 billion as domestic revenue, beating the target by 4.4 per cent.
Ministry of Finance public relations officer Chileshe Kandeta said domestic revenue raised during the month of September amounted to K2.4 billion, surpassing the target of K2.0 billion.
Mr Kandeta said in a statement that of the amount raised, tax revenues accounted for K2.1 billion while non-tax revenues amounted to K238.9 million.
"Government had projected to collect a total of K2.0 billion as tax revenues during the month of September but collections amounted to K2.1 billion, representing 5.4 per cent above target. The good performance was mainly due to higher than projected collections under domestic
Value Added Tax (VAT)," he said.
He said total income tax amounted to K821.7 million, while VAT stood at K956.1million, customs raked in K142.5 million and K206.2million came from duty.
In the same period, Government collected K238.9 million as non-tax revenue from fees and levies.
During the same period, the Treasury released K3.9 billion for constitutional and statutory expenditure such as salaries and debt service.
Part of the money went towards implementation of development programmes and activities under the various Ministries Provinces and Spending Agencies (MPSAs).
"Of the total releases in September, 2013, K1.2 billion was allocated to payment of salaries, salary-related emoluments and wages for public service workers and constitutional office holders," he said.
Mr Kandeta said in order to ensure that the country remained compliant in debt service, K238.1 million was released, of which K41.4 million went towards interest payments on Government Bonds
and Treasury Bills and the balance of K196.7 million went towards external debt service payments.
He said the Treasury also released K2.4 billion to facilitate implementation of development programmes and ensure the smooth operations of MPSAs.
Among notable releases for development programmes is the K1.444 billion for infrastructure development such as road maintenance and construction.
Other releases are K141.3 million to the Food Reserve Agency for the purchase of strategic food reserves and payments for logistical services.
A further K114.4 million was released for the Farmer Input Support Programme (FISP) to facilitate the distribution of fertilisers for the 2013/2014 farming season.
Mr Kandeta said in line with Government's commitment to ensure the availability of affordable credit to public service workers, K15 million was released to facilitate the disbursements under the Public Service Micro-Finance Company.
The Public Service Pension Fund also received funds amounting to K82.9 million, in the continuing effort by Government to alleviate the plight of retirees and pensioners.
Secretary to the Treasury Fredson Yamba pledged the Treasury's continuation of monitoring and evaluation of budget and economic affairs.
This is to ensure that national development programmes fundamentally remained on course.
"I take this opportunity to encourage all the MPSAs to continue promoting best practices and ensuring sustained transparency and accountability in the utilisation of public resources, for the general improvement in the well-being of the people of Zambia," Mr Yamba said.