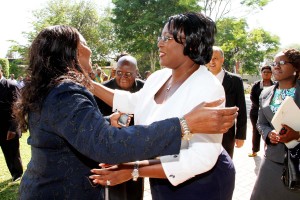 First Lady Dr. Christine Kaseba says Community Schools are not inferior and can equally contribute to producing university graduates.
Speaking when visiting Polish Prime Minister's Wife Margaret Tusk toured City of Hope school in Lusaka today, Dr. Kaseba says community schools play an important role in bringing up responsible citizens and hence should be commended.
She notes that every little thing given by community schools means a lot to the needy and vulnerable in the society.
Dr. Kaseba further urged children at the school to study hard and aim high noting that it is the best way to pay back to the community.
And Mrs. Tusk says she is humbled with the works the Sisters at the school are doing and urged the pupils to study hard so that they can grow up and pay back to the community.