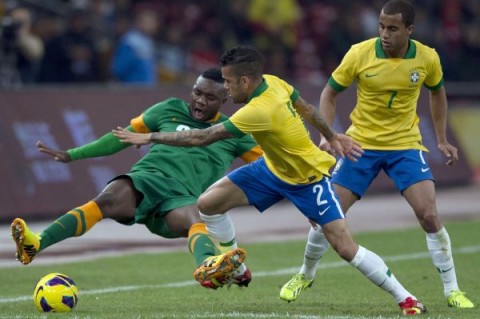 SPORTS Deputy Minister Steven Masumba has advised the Chipolopolo to sharpen their striking skills in front of goal if they were to start winning games.
Masumba has also told the technical bench to see how best they can reorganise the midfield which he described as very porous in Tuesday's international friendly match against the Seleção of Brazil.
The deputy minister, however, commended the national team for coming out of the high status friendly against Brazil with what he described as a descent score line.
Speaking in an interview in Lusaka yesterday Masumba said considering the result in which Zambia lost 0-2 against the five-time world champions; he could comfortably say that they were still the best team in Africa.
"It is not a secret that everyone world over expected Zambia to come down with either a 9-0 or 10-0 scoreline, therefore, the win against Beaumelle's squad was not bad especially when we consider the fact that he did not even have all the players he wanted for the game.
"We have seen bigger teams go down by more goals than what Zambia conceded in Tuesday's game and that goes to show that our boys are good," Masumba said.
He said the fact also that Brazil chose to play against Zambia in that friendly is testimony that they viewed the Chipolopolo as a good side that was worth playing a practice match with ahead of next year's World Cup that the South Americans will host.
Masumba expressed happiness that the game would go down in history as one of the most important friendly games that Zambia has ever played.
And the deputy minister said the ministry was waiting to hear what disciplinary measurers world football-governing body, FIFA will take against Democratic Republic of Congo (DRC) side, TP Mazembe for refusing to release the three Zambia players – Stoppila Sunzu, Rainford Kalaba and Nathan Sinkala for the friendly against Brazil.
He said the trio had shown even greater indiscipline by entering and leaving the country through what he termed 'an illegal manner' and, therefore, deserved stiffer punishment for their behaviour.
Masumba said it was cardinal that the three players face the wrath of the law as well as that of the TP Mazembe, so that other would-be offenders could learn from them.