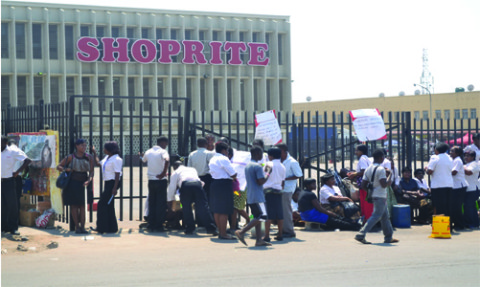 GOVERNMENT has given Shoprite management a 10-day ultimatum to conclude salary negotiations with National Union of Commercial and Industrial Workers (NUCIW).
Labour deputy ministers, Ronald Chitotela and Rayford Mbulu urged all striking shoprite workers to resume work to pave way for salary negotiations.
In an interview yesterday after addressing both management and the union officials in a prolonged meeting that took the whole morning in Lusaka, the deputy ministers said Government expected both parties to cooperate.
"We have been locked up in a meeting since morning with both Shoprite management and NUCIW union officials with a view to reaching consensus.
"We have managed to convince them to go back to work today, we are hoping that management will comply with our directive and finish negotiations within 10 days," Mr Mbulu said.
NUCIW president Robert Munsanje expressed happiness at the outcome of the meeting.
He said the workers had been briefed over the outcome of the meeting and all agreed to resume work today.
Unionised Shoprite employees on Monday downed tools pressing management to improve their conditions of service.
The workers complained that the least paid worker got between K400 and K600 which is below the minimum wage.The workers were demanding a minimum increment of K450.