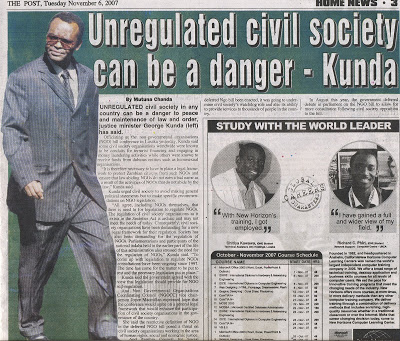 Political scientist Alex Ng'oma has observed that the resolve by some civil society organizations to defy registration under the NGO ACT amounts to anarchy.
Some civil society organizations in the country have vowed not to register under the NGO ACT in its current form which they say is draconian meant to stifle the work of the NGO fraternity.
Dr. Ng'oma says there is no way the civil society can defy registration under the NGO ACT as it is now part of the country's laws, adding that the civil society cannot pick and choose which laws to obey and not to obey.
Dr. Ng'oma has told Qfm in an interview that the best approach for the civil society would be to first register and later lobby for the repealing or revision of the ACT in order to align it in the manner that does not stifle their operations.
He adds that the civil society can also take a leaf from the approaches of the Law Association of Zambia (LAZ) by litigating on matters that are of concerns to them.
And Dr. Ng'oma has also encouraged civil society organizations that have indicated their willingness to register under the new law not to be discouraged.