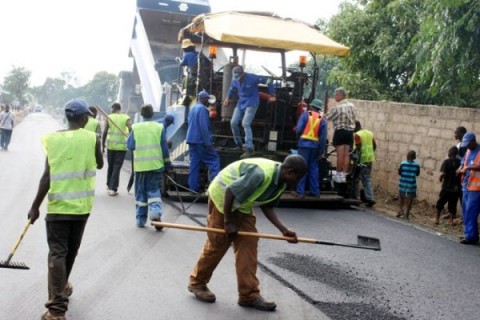 COPPERFIELDS Mining Services Limited, a wholly Zambian-owned integrated mining, earth-works and road construction company has enhanced its industrial capacity to adequately deal with complicated works by using modern and advanced technology.
The company has acquired state-of-the-art plant and equipment and is offering up-to-date solutions in carrying out multi-million kwacha projects that are spread across the country.
Initially, Copperfields Mining Services was hugely involved in mining and earth-works and successfully executed several projects with the mining companies on the Copperbelt, earning itself a solid reputation.
Before diversifying into the road construction business, Copperfields Mining Services (CMS) managed to secure a positive foot-hold in all its dealings with the mining companies because of a quality performance driven by motivation and foresight.
Site manager Isaac Chirwa, who is currently supervising the road projects in Ndola, has said CMS meritoriously acquitted itself well in all the assignments with mines such as Mopani, Konkola, Kansanshi and Lumwana before seriously diversifying into road construction.
Armed with a viable mix of the workforce, 75 per cent of directors, managers and engineers being indigenous Zambians, while 25 per cent are expatriates drawn from Italy and South Africa, CMS boasts of a proactive team whose ability in road construction is outstanding.
"It is in this vein that our company is capable of handling and executing any magnitude of complicated works, using modern and advanced technology and offering modern solutions," Chirwa tells SOLWEZI TODAY in an interview.
Tabulating CMS' performance in mining projects, Chirwa says the company satisfactorily completed a number of ventures with Mopani Copper Mines (MCM) where they did open cast mining and hauling of copper ore. This project entailed mining ore at Open Pit A and E and transporting it to dumps, stripping and hauling waste.
The other CMS mining project with MCM was copper shed foundation which called for the excavation, filling and compaction of copper concentrate.
At KCM, Mr Chirwa says CMS was able to fulfill the assignments with adequacy under various projects such as:
At Mushishima Bridge, the project description being the upgrade of bridge – full construction including road formation, culverts and associated drains;
Tailings Reclamation: This involved excavation, haulage and formation of well-compacted work base.
Chingola Stream Desilting: The project called for flood and pollution control, road construction and tailing desilting;
Nj1803: This was a project aimed at carrying out toxic tailing, desilting and construction, maintenance of all-weather culvert bridges and roads to aid sustained works execution,
Reclamation of Copper Tailing: This was copper production related; and ZEBESHA/CMS, which entailed the hauling of copper ore from Mwinilunga to Chingola and Chambeshi Metals.
The company also carried out two projects for the World Bank and ZCCM Investments Holdings. One was called Uranium Remediation Works which included the construction of roads, new culvert bridge and containment cell structure to take over 150,000 m3 of uranium tailings.
The other one was called Demolition of the Old Plant. This was the demolition of all concrete, steel structures and disposal to safe site. Both were at phase one and two.
Mr Chirwa says that in the diversification process into the road construction business, CMS managed to secure the following road projects:
Bulk earthworks, construction of drainages, access roads and terraces (Mopani Synclinorium Shaft in Kitwe);
Upgrading and repairing of township roads and Lead Pad Construction (Mufulira);
Resurfacing of urban roads around the city, construction of Zangamenu concrete bridge (Solwezi);
Rehabilitation of urban roads (Lufwanyama); road construction (Pedicle road); and road construction (KCM SOB road).
Mr Chirwa observes that with about 450 employees working on all Copperfields projects across Zambia with a bias towards the Copperbelt and North-Western provinces, CMS is up to the task in ensuring that the clients are satisfied with the quality of work being churned out.
Given the cooperation with financial institutions like Barclays Bank and First National Bank who are major financial partners, CMS has been able to grow in terms of capacity and acquisition of state-of-the-art plant and equipment for road construction.
Mr Chirwa explains that the company is able to deliver on its promises because some of the machinery is of high standards. He refers to asphalt pavers, asphalt plants, recyclers, bitumen distributors, reclaimers/milling machines and stabilisers, among others.
"These are of hi-tech and very modern, to deal with the multi-million Kwacha projects that we have dotted around the country," Mr Chirwa says.
The site manager praises the business relationship that exists between CMS and Barloworld, who have been supplying CMS with equipment and specialised staff, who come to Zambia to teach the locals on how to operate machinery.
At international level, Mr Chirwa outlines some of the on-going projects as the total reconstruction of the 70-kilometre stretch of the Pedicle road which has been completely funded by the Zambian Government and welcomed by the Congolese Government.
At this project, the on-site Zambian Government representative is the Road Development Agency (RDA), while the consultants are Rankin Engineering of Lusaka. It is envisaged to be completed in 2015.
CMS has also been awarded an estimated combined distance of 21 kilometres for the construction of Ndola urban roads.
These are Chilyamitondo road, Nyerere-Kanu road, Luapula road in Pamodzi township, Fitente road, Chinika-Shinde road, Mwata Kazembe crescent, Ndibu-Mitengo in Kansenshi, Chikola crescent and Mwasumina road in Itawa.
Others are Dola Hill road, Chilubi road and Kaloko road in Kabushi township and Ndeke north boundary road in Ndeke township.
The Ndola project has an involving component of topographic surveys, geotechnical investigations, traffic count and drawings, while under the rehabilitation/upgrading measures and construction, the contractor is expected to ensure, among others, the following:
Cleaning and opening for open drain; installation of concrete culvert pipe, pipe culvert; stone pitching, stone work and protection against erosion; sub-base preparation by using existing pavement layers; sub-base preparation by using imported gravel material; base course preparation by using crushed stone base; application of 40 millimetre layer of asphalt layer; installation of road signs and road marking.
CMS, Mr Chirwa assures, will always strive to ensure that quality of service is optimal.
"We shall provide a qualitative, long lasting road network according to the specifications and standards expected by the Zambian people, the consultant and the Government of the Republic of Zambia. It is our desire that all our materials and aids are tested correct and good for road construction," he states.
He appeals to other Zambian contractors to join hands with CMS, in which ever way possible, even as sub-contractors in order to balance the capacity as local Zambian contractors: "Together we shall compete favourably with foreign contractors working in Zambia."-Feature courtesy of Suma Systems.