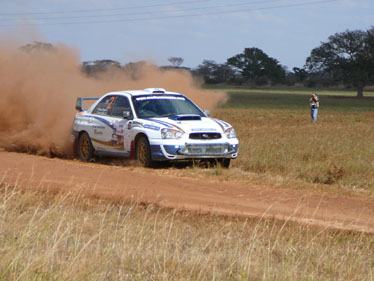 ZAMBIA'S Muna Singh junior is among the competitors vying for a place at the 2014 Fédération Internationale de l'Automobile (FIA) Institute Academy that will bring together the best drivers from across the world.
According to a statement by the FIA, young drivers from 14 countries across Africa are set to take part in their regional selection event for the 2013/14 Young Driver Excellence Academy where the 18-year-old, Singh is featuring.
The statement said this year's Academy involves a series of five qualifying events in regions across the world (continental) to give as many drivers as possible the opportunity to participate.
"This third event will be hosted by Motorsport South Africa at the Gerotek Test Centre, one of the most advanced vehicle testing and driver training facilities in Africa. Drivers have to meet a set of minimum criteria, as well as having demonstrated strong performance in competition so far.
"On the final shortlist for this event are some of Africa's top young drivers from across motor racing and rallying, including competitors from the Tanzania national rally championship, VW Scirocco R Cup and the Namibia circuit racing championship," the statement said.
The event will produce one guaranteed winner to go forward to the 2013/14 Young Driver Excellence Academy and a further three drivers will be selected using a wildcard system, making a total of eight participants in the final Academy group.
Muna Jr. has been competing in the Zambia international motor rally calendar.
Steve Miller, Motorsport South Africa (MSA) chairperson expressed delight at the overwhelming response from motor sporting bodies in Africa to this initiative which has extend the Young Driver Excellence Academy into the region.
"I know that MSA's team, together with our suppliers, Toyota Advanced Driving and the High Performance Centre at the University of Pretoria, are ready to deliver an exciting blend of education and assessment to the successful 14 nominees.
"I wish each of them the very best of luck at the selection event and trust that they will all leave with a greater knowledge than that with which they arrived," he said.
The qualifiers will see drivers undergo exercises designed to evaluate fitness, driving performance, media techniques, teamwork and psychology.
The winner will receive a place on the Academy's fully-funded training programme, which aims at helping drivers develop their motor sport careers, whilst increasing safety skills and actively promoting the principles of safety, fairness and responsibility on and off the track.
He will not be eligible to win the event but could be considered for one of the wildcard places at the end of the selection process.
Other countries with young drivers at the test are Burundi, Kenya, Madagascar, Mozambique, Namibia, Nigeria, Rwanda, South Africa, Tanzania, Uganda, Zimbabwe and the Reunion Island.