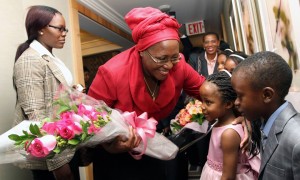 A TIGHT schedule awaits First Lady Christine Kaseba on the sidelines of the 68th session of the United Nations General Assembly where she is one of the key speakers at the annual Women Leaders' Forum.
Dr Kaseba, who is World Health Organisation (WHO) goodwill ambassador against gender-based violence, will also attend a luncheon for African first ladies' to be hosted by Mrs Laura Bush, wife of former American President George Bush.
According to a programme made available here, at the Women Leaders Forum 2013, Dr Kaseba will participate in a discussion on: "Connecting women's health and girls' education for scalable and sustainable development.
This year's forum will focus on the final push to achieving Millennium Development Goals by 2015 and the critical transition to sustainable development post-2015.
The Women Leaders Forum promotes global consultations among business, Government and civil society leaders. And as in past years, the forum will address digital inclusion for scaling-up the MDGs and sustainable development as a development prerequisite.
The expected outcomes of this event include identifying the key challenges to achieving MDGs and sustainable development goals with less focus on women and youth empowerment and discussing specific technology solutions for women and youth.
The forum is also expected to identify priority challenges that need to be pursued toward 2020.
The First Lady will share the platform with Helen Clark, Administrator of the United Nations Development Programme (UNDP) and Carlos Slim Helu, founder and chairperson of the Carlos Slim Foundation and co- chairperson, Broadband Commission.
Mr Helu is a Mexican business magnate with an estimated net worth of US$66.8 billion in 2012, hailed by Forbes as the World's wealthiest man for the fourth year in a row.
At the first ladies' tea, Dr Kaseba will speak about her current endeavours and areas of focus in helping the underprivileged in Zambia.
This is a roundtable discussion where first ladies and corporate leaders discuss their endeavours in order to foster collaboration through partnerships.
In attendance at the event that takes place tomorrow will be first ladies from Zambia, Congo-Brazzaville, Ethiopia, Ghana, Mozambique, Rwanda and South Africa.
"Dr Kaseba will have a speaking opportunity for on her current endeavours and areas of focus and what she feels is needed in order to take the next step in order to promote those endeavours," a statement reads in part.
Some of the organisations expected at the event are Microsoft, Proctor and Gamble, Rotary International and JPMorgan Chase.
Dr Kaseba will also attend a luncheon for first ladies hosted by Mrs Bush, which will serve as a build-up to the discussions the first ladies had at a summit in Tanzania last June.
Thereafter, Dr Kaseba will attend the launch of the Freedom from Fistula Foundation, a global charity to remedy and prevent fistulas in Africa.
In attendance will be Ann Gloag (founder), President Joyce Banda of Malawi, and former President of Ireland, Mary Robinson.