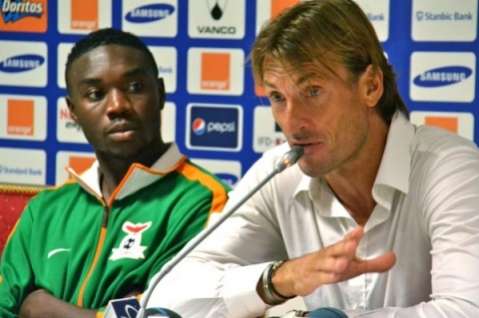 THE 20-member Chipolopolo squad is tomorrow scheduled to leave for France ahead of next Wednesday's international friendly match against Senegal in Paris.
The team will leave without head coach Herve Renard, who is in Zimbabwe with the Zambia B squad and will only join the main Chipolopolo team members in France after the African Nations Championship (CHAN) qualifiers, second round, first leg in Harare.
Football Association of Zambia (FAZ) spokesperson Erick Mwanza said in Lusaka yesterday that part of the team like TP Mazembe players and some technical staff would fly directly to France tomorrow.
Mwanza said the rest of the squad which is in Harare would fly to Johannesburg to join the South Africa-based players before connecting to France.
"The team will leave for France on Sunday with some technical officials. Mostly the players that will go on Sunday are the Congo-based players and those in Harare will fly to South Africa and then connect to Paris.
The technical staff and players on duty in Zimbabwe will fly out of Harare soon after the
match and are expected to be in France on Monday night," Mwanza said.
Mwanza said Renard expects all the players that have been called for the important friendly match which is a preparatory game for next month's decisive 2014 Brazil FIFA World Cup qualifier against Ghana in Kumasi scheduled for September 6, to show up.
The match will be played on a FIFA-sanctioned date. He said that China-based players; skipper Christopher Katongo and James Chamanaga would not make it in time to France because they have their league games on Sunday and would only arrive a few hours before the friendly match.
Mwanza said the Russian based playmaker Chisamba Lungu would also miss the France outing and has been replaced by Zanaco midfielder Roderick Kabwe, while Katongo and Chamanga have been replaced by Bruce Musakanya and Evans Kangwa respectively.
He said Lungu would not make it for the game as the dribbling midfielder had not yet secured his French visa despite completion of processes for all foreign based players by the team management.
"Chisamba Lungu is yet to complete his visa process acquisition in Russia. We understand the difficulties he is experiencing but with the limited time available to him to complete the process and then fly into Paris to join the rest of the team, we have decided to leave him out of the match. In his place, Roderick Kabwe is going to travel."Mwanza said.
The team expected to travel to Paris is made up of goalkeepers Kennedy Mweene and Danny Munyau, defenders; Christopher Munthali, Joseph Musonda, Davis Nkausu, Stoppila Sunzu, Hichani Himonde and Bronson Chama.
Midfielders are Kondwani Mtonga, Kabaso Chongo, Nathan Sinkala, Rainford Kalaba and Roderick Kabwe and striker; Fwayo Tembo, Emmanuel Mayuka, Jacob Mulenga, Bruce Musakanya, Festus Mbewe and Evans Kangwa.
By Yvonne Sakala – SOURCE  Times of Zambia