via Zambia Daily Mail by Online Editor on 6/6/13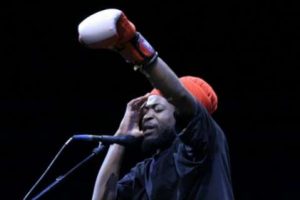 By KELVIN KACHINGWE
AFTER an eight-year break from the music scene, Holland-based reggae artiste Desh Chisukulu last week finally released his long-awaited Still Raggamuffin album.
The album, which Desh says is a real blend of reggae spark, should ignite the flames that have been mounding for the past eight years the husky voiced superstar has been on break.
Desh worked with numerous producers from South Africa, Italy, Spain and California in the United States.
The first single that was produced by the acclaimed dubstep producer Spag Heddy from the Netherlands two months ago on Dubstep.net, went to number one within the first week of its release.
According to Dubstep.net, Still Raggamuffin is a cheeky club-destroyer that will knock listeners and revellers clean off their feet with the sheer and unexpected ferocity of this monumental collaboration between Spag Heddy and Desh.
"From our most prized archives straight to your desktop, we are honoured to present Still Raggamuffin… never before has Desh sounded this way as he was previously known for mixing reggae vibes with Zambezi Music back in Africa, Zambia , where he released two solo albums to his name," the website says.
The album is reggae and dubstep and according to Desh, who used to perform with Nasty D, Twice, Shi Master and Louie X in the Zambezi Symphony, this is his first attempt to record a reggae only album.
"You will experience me like you've never done before. I have gotten a lot of fresh influences, which will bring out the whole new Desh experience," he says.
Still Raggamuffin consists of nine songs and one interlude featuring Peter Bob. The songs are Peter Bob Intro, No Way, So Royal, Dancing In The Rain, On My Way, Still Raggamuffin, Bloodshed and Wars, Mama Sey, If its fire and Let it Burn Freestyle Bang-Bang.