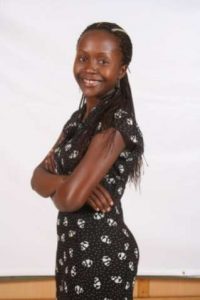 FEELING depressed and worn-out? Well think again because laughter is just by your door step.
These are the words of the most hilarious and talented young Ugandan woman Anne Kansiime who cracked a multitude's ribs with her most intellectual but amusing jokes that sent the crowd to tears as they laughed unstoppably.
Kansiime arrived in Zambia on Thursday for a series of interviews with local Radio stations and ZNBC TV in Lusaka, which saw a busy but fruitful visit to the country, she preceded for her scheduled big show at the Mulungushi international conference center last Friday.
Her show saw a multitude of comedy fanatics flock to the conference center earlier than the time indicated on the tickets for a clear glance of the funny bones. It was a show that saw families hangout and laugh together.
The show was spiced up with local comedians among them Collins the President who imitates former President Rupiah Banda, Artist and now comedian MC wabwino, Chibwe Katebe the host, Ama Blacks and Dangerous Jobeck, the night could not go on without music from Karasa and routine dances from The Jaiva team who treated the crowd to some music and dance.
Meanwhile Ugandan award winner Publo also gave the audience a piece of his comic which busted the audience into gulfs and laughter as they craved for more of his jokes, he joked about his country, his childhood, and his experience in Zambia.
When Kansiime stepped up on stage one could mistake her for a nine year old or grade five pupil she busted the audience in to laughs when she acted as a young girls being told by her father to sing at a competition, majority of the audience thought they would watch her live perform her popular comedies posted on the internet, to their surprise they received a blow of new and more hilarious jokes from her new collection.
The night ended with laughter and satisfaction form the audience who never regretted having paying much for the show, a group of spectators wished such shows could be held every weekend for families to spend time together and enjoy the fun that comes with it.
Kansiime later travelled back to her country Uganda and before she took off she expressed her gratitude for the overwhelming support Zambians gave her.
"I've never been pampered and treated like a princess the way you people have done, in my short stay I experienced much love and care, Zambia felt like my second home," she said.