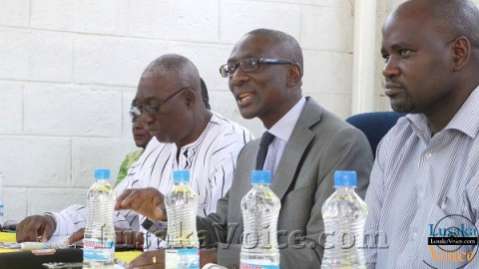 NATIONAL Restoration Party (NAREP) president Elias Chipimo says Government should complement the removal of subsidies on fuel by rejecting defections from opposition members of Parliament.
Mr Chipimo said yesterday at a media briefing that defections are causing unnecessary expenditure of taxpayers' money.
But Patriotic Front secretary general Wynter Kabimba says Zambia is a democracy and people are free to belong to political parties of their choice.
"Freedom of association is a fundamental right which is guaranteed in the constitution. People are free to belong to parties of their choice," Mr Kabimba said.
Mr Chipimo said President Sata must reject defectors.
"While there may indeed be reasons for the removal of the subsidy on our fuel, we question the legitimacy of this action by the PF administration when nothing is being done to reduce the enormous waste of resources that continues to drain funds that would be better spent on development," he said.
Mr Chipimo called on Richard Taima (Solwezi East MP) and Patrick Ngoma (Feira MP), who recently resigned from the MMD to join the ruling Patriotic Front, to "examine their conscience".
Mr Chipimo, however, said NAREP will participate in the Feira by-election slated for June 20.
He said the party will also take part in all future local government by-elections.
And Mr Chipimo has advised Catholic cleric Frank Bwalya to be silent until he concludes his prayer and fasting.
Mr Chipimo says the outspoken Priest should abandon engagement in the media "and take time to listen to God and not engage in politics yet.
"Father Bwalya said he has gone on a retreat to seek God's face. So why is he talking now? The noise of politics will drown God's voice."
Mr Chipimo said he knows Fr Bwalya personally and they usually speak on national issues.
"Maybe God wants him to go back to priesthood, so he must listen to God's voice. But if he wants politics, that's his democratic right," he said.
Last Tuesday, Fr Bwalya said he would seek God's face through a 40-day retreat.
But a few days later, he announced the formation of a political party which is yet to be registered.
Meanwhile, CLAVER MUTINTA reports that MMD vice-president for administration Brian Chituwo says Fr Bwalya is free to join the ruling party.
Mwandi member of Parliament Michael Kaingu was yesterday quoted as saying he is ready to relinquish the MMD vice-presidency for political affairs to pave way for Fr Bwalya.
Dr Chituwo said Dr Kaingu's statement is personal.
"The offer by Dr Kaingu to resign and allow Fr Bwalya to take over shows that he is a nationalist. We welcome the statement by Dr Kaingu. He is becoming a nationalist. It was a personal statement but also visionary," he said.
He said Fr Bwalya is welcome to join the party as he has something to offer the MMD and the country.
But MMD national secretary Kapembwa Simbao says he does not understand why Dr Kaingu issued such a statement.
Mr Simbao said if Dr Kaingu feels that Fr Bwalya can do better job than what he has done so far, he is free to pave way for the cleric to take over.
"Fr Bwalya is a free Zambian who can aspire for any position in Zambia," he said.
And Fr Bwalya says Dr Kaingu's gesture is "humbling."
He said the offer by Dr Kaingu has made him "feel good", adding that it is the people who are rating him and not himself.
Fr Bwalya said Dr Kaingu's offer shows that he (Dr Kaingu) is a mature leader.
"It is an expression of maturity…and I want to commend him for that offer. We will be making a decision on that because our options are open," he said.