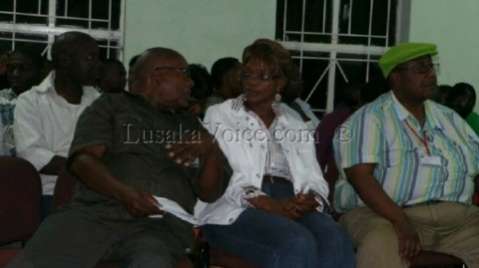 PF chairperson for elections Sylvia Masebo says the just ended
Livingstone by-election should teach UPND leader Hakainde Hichilema
that people of Livingstone have rejected politics of regionalism.
Commenting on the PF's victory in Livingstone, which saw Lawrence
Evans being solely elected as the first ever PF Member of Parliament
after getting 10,233 votes, Masebo said Hichilema should learn a
lesson that politics of insult and hatred would not take him anywhere.
Masebo who is Tourism and Arts minister said people of Livingstone
have voted for development by electing a PF MP.
"Last time UPND with the support of the MMD won with something like
11,000 votes and we had something like 8 000 or 7000 votes but today
the tables have been turned because the people of Livingstone have
rejected regionalism and violence in politics. They have rejected UPND
clearly and I hope that my brother Hakainde Hichilema will learn a
lesson from this," Masebo said.
"Politics of bitterness, hatred and insults can never take you
anywhere. To rule this country you need every corner of Zambia to be
behind you. I am very happy that the people of Livingstone have agreed
to work with President Sata and the PF government especially here in
Livingstone so that we can develop the tourism sector that we have
been talking about."
Masebo says the PF will work hard to deliver development in the city.
"The people here have encouraged us to work hard through their
support. We shall not segregate; we shall work with everybody
including the UPND, the MMD and all the people of Livingstone. I want
to thank God because every leadership comes from God and people should
know that insults and hatred cannot take you anywhere as a leader,"
she said.
And veteran politician, Daniel Munkombwe said the PF was a strong
party and everybody worked hard to get the first ever PF MP in
Livingstone.
Meanwhile, UPND Livingstone district spokesperson Neto Halwabala said
UPND would not accept the outcome of the by-election.
"The violence that characterized the by-election at the hands of the
PF showed that we have a lot of lawlessness in this country. Yet we
are told that the country is being governed on the tenets of
democracy," Halwabala said.
"There is need for civic education to be taught amongst our
electorates because most people's votes were bought in this
by-election," said Halwabala.
The PF scooped the Livingstone parliamentary by election with a margin
of 2035 votes.
PF candidate Lawrence Evans was declared winner of the Livingstone
constituency by-election around 02:00 hours by Returning Officer
Elester Hajizinji.
Hajinzi said the PF candidate polled 10,233 votes while his closest
rival, UPND's Regina Musokotwane got 8,198 votes. The MMD's Fred
Siasuntwe polled 2,034 votes.