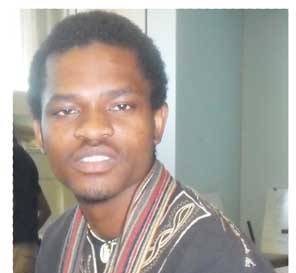 He bounces into the office and stretches out his hand and introduces himself. I immediately take note of his foreign accent as I step into the world of this film producer, director and writer, Anthony Ngabwe or better known as Tony to his peers.
Born and raised in Zambia, he came to Namibia in 2006 to study for a degree in Theology. His true passion came out when in 2009 he started a project called Students for Change which has helped take dozens of kids off the streets and away from crime through music, poetry, dance and performing arts. Students for Change has worked with various organisations in their productions including NGOs and churches. Their aim is to bring about change in the youth. Students of Change Productions have produced five films to date, including "All hope is not lost" and "It is possible", all of which have been written and produced by Ngabwe.
His love for film started when he was still young and this saw the talented film producer in many plays in Sunday school as well as in many stage and film productions in Zambia. He is also currently studying for a Diploma in Community Development with specialisation in Human Resources at the University of Namibia.
Ngabwe is a man of many talents. He has a book on poetry in the pipeline which he said will be published later this year. According to the inspired creator, he draws his inspiration from the works of actors and film producers Sylvester Stallone and Tyler Perry.
Things are looking up for the producer as his film "It is possible" has received acknowledgement from NBC. The film is a story about child abuse, hope, love-lost and love-gained, It takes the audience into the life of the protagonist named Tony, an abused child who ends up on the streets of Windhoek selling airtime in order to survive. He uses the money he makes to educate himself and ends up at the University of Namibia where he meets a rich girl who falls in love with him. Before Tony finds his true love he experiences heart break when his girlfriend leaves him for a rich man while he is still figuring out how to make ends meet. The film was shot all around Windhoek and is currently undergoing reviews at the NBC and will be aired on the national television channel in two weeks time.
Like every other film producer, Ngabwe faces a major challenge of funding. Despite the fact that both films were self-funded, Ngabwe's fiery passion for film has not been extinguished as he hopes to see his films grace international screens. "My dream is to take Namibian films to the whole of Africa and the rest of the world" he said.