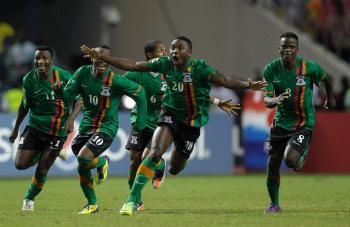 The Chipolopolo Brass Band supporters have praised President Michael Sata for encouraging the national soccer team to defend the Africa Cup of Nations (AFCON), which kicks off in South Africa this weekend.
Chipolopolo Brass Band supporters chairperson Chisenga Lwipa said the supporters were delighted with President Sata's recent remarks urging the national team to work extra hard to retain the title.
Lwipa told ZANIS sports in Lusaka today that the President Sata's advice to the team was timely.
He pointed out President Sata's message to the national team shows that he was confident that the Chipolopolo boys would defend the trophy.
Lwipa also urged government to sponsor a lot of soccer fans to South Africa to support the national team in order to boost their morale of reaching the finals and defending the cup for the second time.
He further noted that it would be embarrassing if only few soccer fans were sent to South Africa to cheer the Chipolopolo boys during their matches.
Lwipa said South Africa was just like a second home ground for Zambia hence the need to many soccer fans to travel there.
He stressed that chances of the Chipolopolo boys defending the title were high as the team has shown total commitment and coordination during their training in camp.
The reigning African Champions begin their campaign to retain the title against Ethiopia on January 21st before playing Nigeria and Burkina Faso.
President Michael Sata recently sent a message of goodwill to the Chipolopolo boys ahead of the 29th edition of the Africa Cup of Nations finals which kicks off in South Africa this weekend.