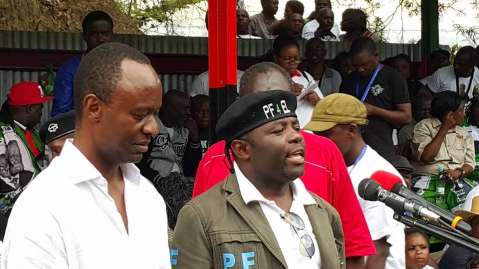 Former Minister of Home Affairs Stephen Kampyongo has warned that he will be left with no option but to commit sucide if police dares to arrest him. Speaking this morning in Lusaka in a radio interview, Mr Kampyongo claimed he has information that police will soon arrest him for ordering the killing of Mapenzi Chibulo in 2016.
"President Hakainde Hichilema wants me arrested for allegidly ordering the police to kill Mapenzi Chibulo. But let me warn them that should they try to arrest me, i will have no option but to do something and taking my own life is not off my table. I would rather die than suffering in prison", said Kampyongo.Yesterday, a police Inspector Benny Mulenga of Lusaka told investigators he is the one who shot dead Mapenzi Chibulo on 8th July 2016 after being ordered by Home Affairs Minister Stephen Kampyongo to do so."Am concerned but I remain positive that these are matters that will come to pass.
Iam not above the law and Am ready to face justice if there is something that the people of Zambia think I did wrong. But if am arrested, its better to take my life than suffering in prison", he warned.
"I CAN NEVER COMMIT SUICIDE, I AM A FULL FLEDGED POLITICIAN', SAYS KAMPYONGO IN PARLIAMENT TODAY