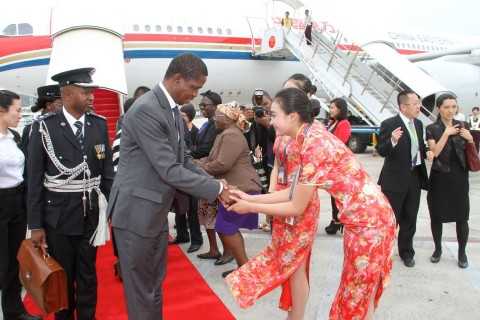 The government says it will endorse China's vision for a China-Africa community with a shared future embedded on the principles of practical cooperation and common interest.
Chiefs and Traditional Affairs Minister Lawrence Sichalwe says Zambia appreciates the continued support from China through its investment collaboration and the provision of essential support in various sectors of the economy with notable ones in infrastructure development.
He was speaking in Lusaka today when a visiting Chinese delegation from the China Ethnic Affairs Commission called on him at his office in Lusaka this afternoon.
Stressing that Zambia appreciates China's social-economic support as it is in line with the country's Seventh National Development Plan, Mr Sichalwe explained that the visit by the delegation is an exchange after the Zambian delegation visited China in 2013 to study how China had developed its rural areas.
Mr Sichalwe noted that arising from the visit the delegation came back with a desire to urge his Ministry to expedite the implementation of the creation of micro-industries in chiefdoms especially in rural areas that still lack basic infrastructure and development.
" The Ministry Chiefs and Traditional Affairs is also eager to explore further areas and opportunities of cooperation between the two ministries in areas of preservation and documentation of cultural practices, traditions, languages, relics and artifacts among others, " he said.
The Minister further expressed optimism that the visit by the Chinese delegation will lead to the identification of more areas of cooperation that will further lead to the acceleration of rural development among many other areas of concern and interest.
And Chinese delegation leader, Executive vice Minister of the Ethnic Affairs Commission of the People's Republic of China Liu Hui has praised the continued diplomatic ties existing between Zambia and China.
Ms Liu explained that the relation between the two countries in different aspects of development have continued to grow from strength to strength there by benefitting the people in the two countries.
She noted that this is why the Chinese Ethnic Affairs Commission is in Zambia to further strengthen and explore mutual relations in culture and traditional matters.
She added that China values ethic issues because of the role that they play in fostering development among the local people hence would want to learn about how Zambia has managed to preserve its culture and tradition.
The delegation is in Zambia for a four day working visit and is expected to meet various stakeholders and Zambian government officials.
ZANIS