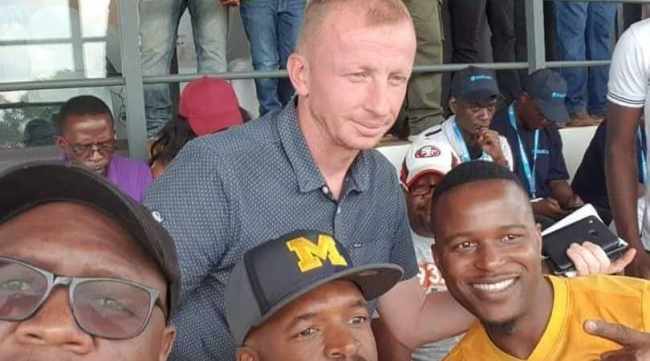 Belgian football coach, Sven Vandenbroeck's hopes of remaining in Zambia until the next World Cup in 2022 have been dashed after the football association terminated his contract with Chipolopolo.
Vandenbroeck had agreed on a performance-based nine-month contract with the Football Association of Zambia (FAZ) on among other conditions, to qualify Zambia for this year's African Cup of Nations. But the 2012 African champions have failed to qualify following dismal performances in the Group K qualifying rounds.
FAZ confirmed in a statement on Tuesday that the contract for the 38-year-old Belgian will not be renewed when it expires at the end of next month.
He will be head coach of the national team until after the final qualifier match at home against Namibia on March 22. In the meantime, FAZ appointed two assistant coaches – Aggrey Chiyangi of Green Eagles and Numba Mumamba from ZANACO.
Chintu Kampamba, who assisted Vandenbroeck on the technical bench, has also been dropped and reasons have not been given. This decision follows a meeting held by FAZ executive last weekend.
"We wish to advise that Mr Sven's contract comes to an end in March 2019 and will not be renewed," Kashala added.
FAZ will continue to pursue the enhancement of football development by recognising and promoting young talent and building football administration across the country.
Plans are also underway to step up preparations for the Under-23 AFCON 2019 Qualifier that will set Zambia on the path for the 2020 Tokyo Olympics.
Vandenbroeck took over from Wedson Nyirenda in July 2018 and was tasked to qualify the Zambia national team for AFCON 2019.
The Belgian coach has refused to comment on his dismissal, referring all inquiries to the football body.
Earlier, Vandenbroeck had defended his lacklustre performance in the qualifier games and instead proposed the extension of his contract to 2022 to allow him to rebuild the team.
Zambia has performed dismally against Mozambique, Guinea Bissau and Namibia during the group K African Cup of Nations Qualifier and garnered a paltry four points.
FAZ president, Andrew Kamanga, regretted the poor showing of the once continental champions and promised that the football association would devise remedies to bring back glory to the former African champions.
"FAZ expects measures to restore the integrity of the team as you know it is very painful to fail to qualify to the Africa Cup," Kamanga stated after the match against Mozambique.
But amid criticisms, Vandenbroeck was optimistic of the team rising above criticisms given its potential to rekindle its faded reputation as former continental champions.
He sought the FAZ's consideration to extend his nine-month contract for another four years and allow him to realign the team's tactics and take the country to the 2022 Qatar World Cup final.
The Southern Times