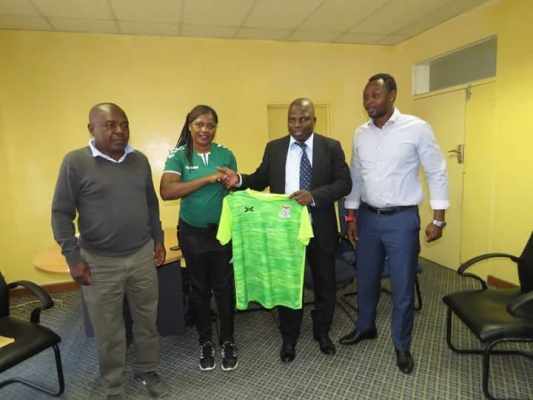 A WEEK before the start of the 2018 COSAFA women's championship, the Football Association of Zambia has fired coach Enala Simbeya Phiri.
According to a source at Football House, Simbeya, who reported into camp after her appointment as head coach on August 22, has been given the boot for allegedly merely inquiring on the players' allowances from last year's COSAFA women's championship.
The departure of Simbeya, who replaced Bruce Mwape as head coach, has left the players in a quagmire ahead of the tournament starting on September 12, in South Africa.
When contacted for a comment on Tuesday evening, Simbeya said she had not yet received a letter to that effect.
"I have not been communicated to. I have not received a letter yet but that could be true. It could be 95 per cent true and false, I will get back to you," said Simbeya.
The previous assistant coaches, Kape Saili and Carol Kanyemba, were fired through a WhatsApp message.
FAZ is said to have not yet paid the players who participated in the 2017 COSAFA women's championship where the lasses emerged third.
In a statement yesterday, FAZ confirmed parting ways with Simbeya.
FAZ communications manager Desmond Katongo, who earlier said he was not aware of Simbeya's dismissal, said the decision to part ways with her was arrived at the association's Executive Committee meeting held on September 1.
"The Football Association of Zambia (FAZ) has with immediate effect parted company with Zambia Women's National team coach, Enala Phiri. The decision to part ways with Mrs Phiri was made during the Football Association of Zambia Executive Committee meeting held on 1st September, 2018. FAZ and Mrs Phiri reached a mutual agreement to part ways. The decision to part company is purely in the associations and Mrs Phiri's interest. We wish to take this opportunity to wish her the best of luck in her future endeavors," he stated.
FAZ has since appointed assistant coach Beauty Mwamba as acting women's national team coach.
"We wish to congratulate Mrs Mwamba on her appointment. FAZ has immense faith in her ability to deliver for the nation," said Katongo.
Upon her appointment and fresh from a nine-month training in Germany, Simbeya named 27 players ahead of the 2018 COSAFA Castle Cup.
FULL SQUAD
Goalkeepers
Hazel Nali, Maleta Mwawindwa, Bupe Mwanza, Anita Sunguni (all Green Buffaloes) and Catherine Musonda of Indeni Roses FC.
Defenders
Anita Mulenga, Martha Tembo (both Green Buffaloes), Jackline Nkole (Indeni Roses FC), Margret Belemu, Emelda Musonda (Red Arrows), Mweemba Lushomo, Jackline Mulenga (both Nkwazi).
(Midfielders)
Tamara Mbewe (Green Eagles), Lweendo Chisamu, Mary Mwakapila, Joana Beyani (all Green Buffaloes), Rhoda Chileshe (Indeni Roses), Hellen Chanda (Red Arrows) Mary Mambwe (Nkwazi) and Mercy Nthala of National Assembly.
Strikers
Barbara Banda, Rachael Nachula (both Green Buffalos FC), Misozi Zulu (Indeni Roses), Theresa Chewe, Rachel Kundanaji (both Indeni Roses), Hellen Mubanga, Etas Banda (both Red Arrows) and Penelope Mulubwa of Zesco Girls.
The Mast Online