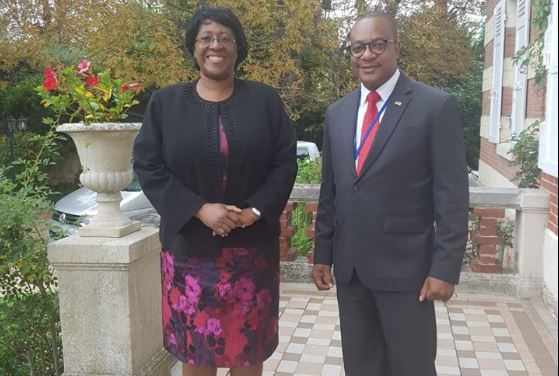 Tuesday, 4th September 2018
Zambia's Ambassador to France, Her Excellency Dr. Christine Kaseba-SATA and her family have arrived in Paris to commence her tour of duty.
Charge d'Affaires Mr. Joe Kaunda led the Zambian diplomats in receiving the Ambassador designate at Charles de Gaulle international Airport.
Dr. Kaseba-SATA takes over from former Ambassador Mr. Humphrey Chibanda who was recalled in January, 2018.
Dr. Kaseba-SATA was sworn in as ambassador extra-ordinary and plenipotentiary of the Republic of Zambia to the Republic of France on 16th April, 2018.
Dr. Kaseba-SATA, a physician and surgeon specialised in gynaecology and obstetrics, served as the First Lady of Zambia from 2011 until the death of her husband, Zambia's fifth Republican President Mr. Michael Chilufya SATA on October 28, 2014.
Dr. Kaseba-SATA who has vast experience as a health practitioner for over 30 years, has also worked as a consultant, lecturer and was appointed a World Health Organisation Goodwill Ambassador from 2012 to 2014.
The Zambian Mission in France also covers Spain, Portugal, Serbia, Bulgaria, Romania as countries of extra accreditation and the two U.N. bodies UNESCO and the UNWTO.EMBASSY/PERMANENT DELEGATION TO UNESCO