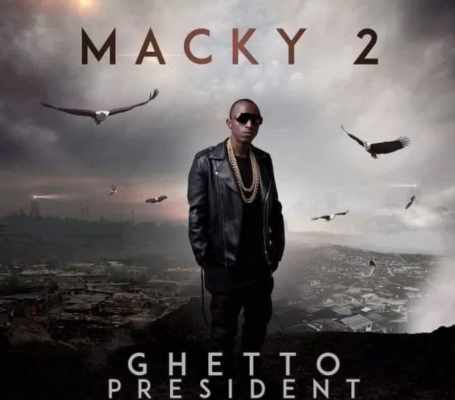 'Ghetto President'  is Mark Mulaza aka Macky 2's fourth studio album released last month and already gaining massive support. From his first ever album, 'Umupondo' meaning savage, the artiste, described as one of the most influential hip hop artistes in Zambia, has witnessed steady growth. ' Umupondo', the album was followed by ' Legendary' which won him a Zambia Mosi Award for the best album. From there,  he brought us ' Zero to Hero' in 2013 meant to emphasize his progression both in music and life.
With all his previous albums being strategic and thematic, it is not surprising to note that his latest album follows the same pattern.
"Basically what I am saying on this album (Ghetto President) is that I am a leader now, I have influence over my followers. There is an old saying that 'with great power comes responsibility', as artistes we have a great responsibility to inspire people, we are leaders already, and I called it this name because I inspire a lot of people," says Macky2 in explaining his new project comprising 16 full songs plus an intro, outro and a bonus verse.
"I mention Ghetto because I  came from a humble beginning. My choice for Ghetto is to reflect where I am coming from and show that I have a connection with the Ghetto and this is reflected in my music."
Macky2's Ghetto emphasis on the project is strongly reflected on the album artwork, that shows him dressed all in black and standing on a higher place on top of the ' Ghetto' to show he is now soaring high like an eagle.
"Standing at a higher place with the Ghetto showing symbolises I have made it all the way up. It also shows we started from the bottom now we are here. But we never forget where we are coming from. It also inspires people to rise because nobody wants to remain poor. We want people to know they can make it," emphasises Macky2 who has worked and collaborated with several artistes and producers on this project.
" My music and collaboration happened naturally, all artistes on this project are people I am found with outside the music. We must have some chemistry to do music together and that is what happened on this project," he adds.
Artistes on the album include his brother and local hip-hop icon Chef 187, Daev, Camstar, Dope G, Wilz and Israel to name only a few.
The album is now available on various social media music platforms while hard copies on CD are in local music outlets across the country.
DAILY NATION