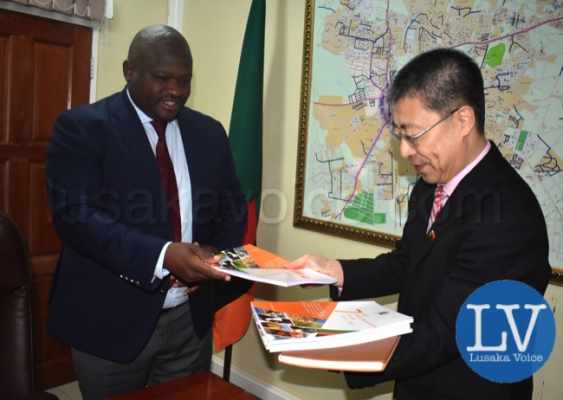 LUSAKA, Thursday, 5 July 2018 –  The Minister of National Development Planning Honourable Alexander Chiteme, MP, has urged new Ambassador of China to Zambia, His Excellency Mr. Li Jie, to implore Chinese companies operating here to transfer skills to Zambians.
The Minister said this when Ambassador Li paid a courtesy call on him at the Ministry of National Development Planning on Thursday.
Hon. Chiteme noted Chinese investment in various sectors in Zambia, and  assured the Ambassador of the Government's continued cooperation with China to achieve a win-win outcome.
"What we want to see as Zambians is skills being transfers from the Chinese nationals and imparted into our people so that we can learn and enrich our skills to do the things that the Chinese companies are doing in various sectors here in Zambia," Mr. Chiteme said.
The Minister explained to Ambassador Li about Zambia's Seventh National Development Plan (7NDP), its Implementation Plan, and handed over the copies to the new envoy for him to understand and appreciate the country's development trajectory.
He said Zambian provincial ministers' visit to China to woo investors and seek possible twinning of their provinces and Chinese provinces was now bearing fruits.
Hon. Chiteme therefore encouraged the Chinese Ambassador to support the initiative of twinning the provinces as that will have direct benefit to the people.
On the scheduled bilateral meeting between the Presidents of Zambia and China, Hon. Chiteme expressed optimism that the two leaders' meeting would yield positive bilateral agreements that would contribute to the development of the two countries.
And Ambassador Li said Zambia was the second largest destination for Chinese investment.
He said Zambia's favourable and attractive investment environment was the major attraction to Chinese investor as their destination of investments.
He commended the continued bilateral relations between the two countries and Zambia's support to China at multilateral level including at the United Nations.
Ambassador Li said His Excellency Mr. Edgar Chagwa Lungu, President of the Republic of Zambia, will hold a bilateral meeting with his Chinese counterpart His Excellency Xi Jinping in September this year to chart the blueprint of the next steps of bilateral developments between the two friendly countries.
Ambassador Li said he was excited about the upcoming bilateral meeting between Presidents Lungu and Li in September this year.
"In September this year, His Excellency President Edgar Lungu will go to China to attend the Forum on China Africa Cooperation (FOCAC) Summit in Beijing. I am very excited because that would be another opportunity for President Lungu to have a bilateral meeting with President Xi Jinping of China to chart the blueprint of the next steps of bilateral developments of our two countries," Ambassador Li said. "This will be the second trip of President Lungu after his first one in 2015. We hope this will be another momentum of the development of the relations of our two countries."
Mr. Li presented his credentials to President Lungu last week on 29 June, 2018 to commence his duties as China's Ambassador Extraordinary and Plenipotentiary to Zambia.
The Ambassador told the Minister and his technocrats that Zambia's political and security stability, government and private sector responsiveness to work with foreign investors was the major attraction to the Chinese investors.
"In China we have a very strong Ministry of Development and Planning; they make significant proposals for social economic development. They are also interested in having international co-operations. At your convenient time, we would like to facilitate exchange programmes between your colleagues in the Ministry of Development and Planning your ministry," said Ambassador Li.
The Ambassador expressed his commitment to support the twinning of Zambian and Chinese provinces.
Ambassador Li further expressed commitment to help channel Chinese tourists to visit Zambia.
The Chinese Ambassador Commended the Zambian Government for its commitment to sustainably manage its debt stock.
"Zambia has a lot of similarities with China …you have the Seventh National Development Plan, we in China are now implementing the 13th national plan…," said Ambassador Li.
Meanwhile, Ministry of National Development Planning (Permanent Secretary for Development Cooperation, Monitoring and Evaluation) Mr. Mushuma Mulenga said the ministry will work closely with the Chinese Embassy as the Zambia implements the 7NDP.
"We know that China will be a very valuable partner in implementing the projects in the Seventh National Development Plan, which is our blueprint for the next five years," said Mr. Mulenga.
Issued by
MINISTRY OF NATIONAL DEVELOPMENT PLANNING