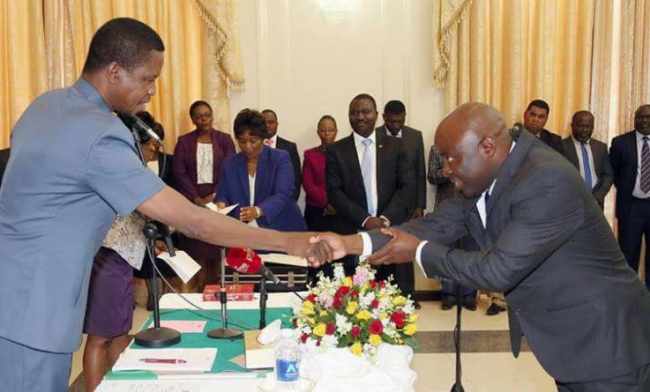 Kitwe. 05.06.2018.
President Edgar Lungu should fire his Home Affairs Minister if he is sincere in fighting corruption.
Stephen Kampyongo should be dismissed because of his involvement in financial crimes.
The latest Financial Intelligence Centre FIC report clearly elucidates Kampyongo's role in graft.
The FIC is explicit on Kampyongo's role in the dubious purchase of the 42 fire tenders.
One does not require special knowledge to conclude that kampyongo is the Minister being referred to in this report.
Kampyongo was Local Government Deputy Minister when the 42 million U. S dollars fire tenders where bought.
Kampyongo is also one of the persons who received part of the 200 million kwacha from the firm that supplied the fire tenders.
According to the FIC report, Kampyongo and his associate's received motor vehicles and purchased properties using bribes they received from the fire tender's scandal.
As NDC, we further demand that relevant investigative agencies should act on the fire tender irregularities highlighted in the FIC report with immediacy.
We see no reason why President lungu should not relieve Kampyongo of his duties.
If President Lungu does not fire kampyongo, the whole anti corruption crusade will be nothing but a window dressing exercise.
As NDC we are concerned on why the Anti Corruption Commission ACC and DEC are delaying to act on findings in the latest FIC report.
As NDC, we feel they should be no sacred cows in the fight against graft.
President lungu has time and again demanded for evidence linking his Ministers to graft.
An opportunity has arisen for President lungu to exnorate himself on his genuineness and sincerity to curb corruption.
The Head of State has a rare opportunity to act now and fire Kampyongo.
Contents of the FIC report are too serious to be ignored.
All those cited in the report besides Kampyongo should be named and brought to book.
As NDC, we want to commend the oversight role that the FIC is playing in promoting transparency and accountability in the country.
Officers at the FIC are doing an extremely risky job.
The NDC is however disappointed with the double standards that the DEC and ACC are exhibiting.
The ACC is highly polarised and is selective in the fight against corruption.
The ACC has failed the Zambian people particularly its Director General who should show cause why he should not vacate office.
We further note with deep regret that dubious and mischievous characters have regrouped to frustrate the effort's of the FIC.
We are aware that a cartel of crooks led by a named lawyer has been holding dark corner meeting's in lusaka in an attempt to silence officers at the FIC.
As NDC, we challenge the command at DEC, the ACC and the police service to explain to the nation when they will act on findings from the FIC.
Issued by: Mwenya Musenge. Secretary General NDC.