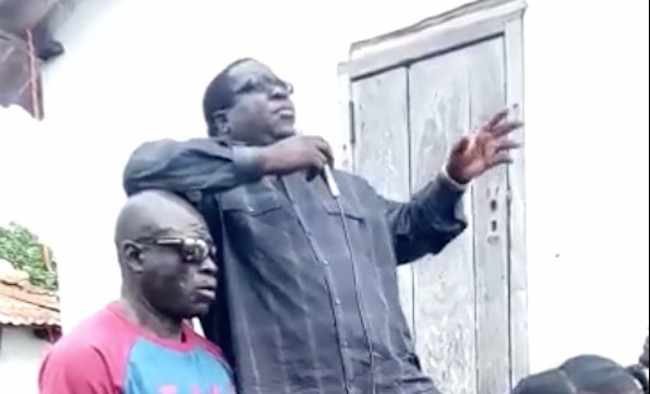 It all started like a joke or petty politics, when I said, I will report Kambwili to the Police for registering a fake company and using it as a conduit of corruption, but today it has tuned out to be a serious matter causing serious hypertension in BaKambwili.
I am not here to judge the man because that is the preserve of the Courts which is why I took him there.
In my witness in chief, I testified that Kambwili had registered a company called Mwamona using a fake name "Mwamba Chishima" purporting to be the name of his first born son.
I also told the court that, Kambwili used an NRC of his sister Sampa Kambwili to link it to the name of the fake name "Mwamba Chishimba".
Further, I argued that, even if the name Mwamba Chishimba belonged to Kambwili's son, it was still fraud because the son, whose name is Mwamba Kambwili, as shown in his documentation, could not register this company in his name because he was a minor at the time of registration of Mwamona.
In cross examination, Keith Mweemba asked me if I had brought any evidence to support my allegations, I said I did not bring but other competent people will avail the documentation as evidence later.
True to my word, the next witness, Mr. Lameck Mwenya, a Manager at PACRA, testified that, the company Mwamona Engineering and technical Service does exist with two directors Carol Chansa Kambwili and Mwamba Chishimba with NRCs for both directors.
Mr. Mwenya told the court that, a minor cannot register a company.
However, Mr. Mwenya went on to review that, on the very day, I was testifying, in the afternoon, after court, Kambwili acting as Chairman of the company with his son Mwamba and the wife Carol, lodge-in notice of changes to the director's details at PACRA.
The changes which were lodged in after my testimony changed the names of Mwamba Chishimba to Mwamba Kambwili. The NRC number was also changed to the correct NRC of Mwamba Kambwili.
The changes also included the company Secretary to Carol, from Mwamba Chishimba.
From my understanding of how cases before court operates, I thought this was contempt because Kambwili was tempering with evidence which I had already presented in Court.
Therefore, I asked the prosecutors to file an application for contempt against Kambwili. However, the application could not succeed because it was wrongly, by law, presented before court.
Keith Mweemba took time to lecture the State Prosecutor on how to present a contempt outside the face of the court.
Determined to follow the law and doing justice, a formal complaint was laid before a Magistrate in accordance with the law as argued by Keith and directed by the court.
The complaint has since been signed by the Magistrate and served on Kambwili's lawyers, Christopher Mundiya. Kambwili will then be brought before Magistrate Chanda on Monday, 14th May 2018, to take plea on a contempt charge, for tempering with evidence.
After Mr. Lameck Mwenya, another PACRA employee took the stand, but I will give you details of that, later as she is still on the stand. The main case of fraud, will come up on 14th June, 2018 for continued trial.
Meanwhile, we will be pursuing the case of contempt which has a sentence of 6 months if convicted.
To me this case is not about fighting Kambwili but fighting against criminality and corruption. It actually came out in my cross-examination as Christopher Mundiya played a recorded press conference which I had in regard to this matter.
I have no bias and I will take on anyone, as I want to do with Zindaba Soko and Brian Mushimba, in the near future.
I have been doing my investigations and I think, I should hold a press conference next week where I will lay on the table my issues of what is happening at RTSA.
Brian Mushimba is very much aware of the issues I will raise because I sort audience with him but chose to ignore. I just want to establish how much State House is involved in this then I am good to go. Whichever the case I should hold a Press conference by Wednesday, 16th May, 2018.
TAYALI – NI TOUCH AND GO!