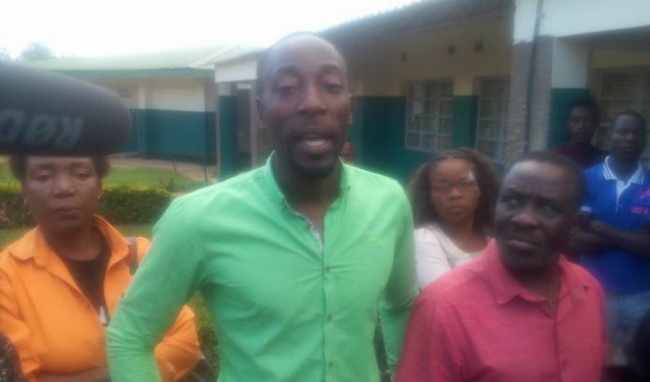 Mufulira. 04.05.2018.
The NDC has petitioned the Electoral Commission of Zambia ECZ for refusing to allow the party to file in its nomination bid for the Chilanga constituency parliamentary by election.
NDC Secretary General Mwenya Musenge has since requested the ECZ to allow Edward Simfukwe the party's hopeful to file in his papers for the June 5 parliamentary race.
Mr. Musenge made the suggestion in a letter dated May 4 2018.
The protest letter has been originated a day after the ECZ refused to allow the NDC candidate file in his nomination papers.
This is on account that the NDC candidate appeared at the nomination centre two minutes after 15.00 hours.
This is however a contradiction as the NDC candidate initially arrived at the nomination centre soon after 12.00 hours on the material day.
The protest letter further states that the NDC could not file in their bid at the agreed time due to threats from pf carders.
The pf carders had completely taken over the nomination centre at the time the NDC was supposed to file in their papers.
It was at that point that the ECZ instructed the NDC to go back to the polling station at 14 hours.
Both the NDC and the ECZ verbally consented to the change of time for the nomination's.
The NDC has delivered the protest letter through Chilanga constituency campaign manager Saboi Imboela.
Ms. Imboela is also NDC Chairperson for Gender and Child Development.
The letter has also been copied to the ECZ Chilanga District conflict management resolution committee.
According to the two paged letter, the NDC has indicated that the filling in of nomination's for the chilanga seat was held in a hostile environment and marred by violence.
The NDC indicates that the lack of adequate state security made the entire filling in of nomination papers a mare window dressing excise.
This is because pf carders and cabinet Ministers took over the nomination centre.
This development thus deprived other parties such as the NDC an opportunity to file their papers.
The NDC has complained that Pf carder's deliberately bieseged and camped at the nomination centre unnecessarily for over three hours.
This was part of a calculated frustration ploy to ensure that the NDC candidate was blocked to have access to the nomination centre.
The letter adds the pf only moved out of the nomination centre after 15 hours.
NDC Secretary General Mwenya Musenge contends that the ECZ failed to protect the interests of stakeholders on the nomination day.
Mr. Musenge is however confident that the NDC will be given a chance to have the NDC candidate file in his nomination papers.
Issued by: Misheck Moyo. NDC National Chairperson Media and Member of the Central Committee.