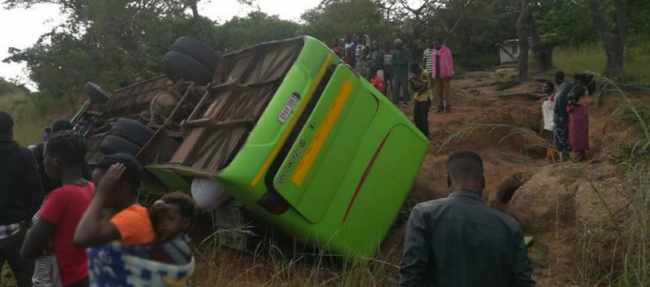 RTSA has suspended the operating licence for Juldan Motors Bus Services due to the operator's poor road safety profile, which has become a danger to the public.RTSA has given Juldan Motors Bus Services 48 hours to stop operations.
"None of the operator's buses shall be expected to be on the road," RTSA chief executive officer Zindaba Soko said.

Lusaka, 2nd April 2018-The Road Transport and Safety Agency(RTSA) has expressed concern over the poor road safety record for Juldan Motors following the recent road traffic accidents involving it's buses.
The company has recorded three road traffic accidents in a period of one month.
From the forgoing, the Agency will institute investigations to ascertain the causes of the accidents and address the company's poor road safety profile.
Based on the outcome of the investigations, the public will be advised on the next course of action to be taken.
Today April 02, 2018 a Juldan Motors bus registration number ABE 6940 driven by Davies Kasoka was involved in an accident at around 06:30 hours.
Four people including the driver died on the spot while 41 passengers are serious injured and admitted to Chilubula Mission Hospital.
Preliminary investigations conducted by the RTSA have established the the driver lost control of the vehicle due to the bad weather condition and excessive speed.
The driver failed to stop at the Mporokoso turn off on Luwingu-Kasama road and overturned.
Last week another JuldanMotors bus was involved in a road traffic accident in Zimbabwe killing one person.
And on March 18, 2018 another Juldan motors bus was involved in a road accident along the Ndola-Kapir Mposhi road.
ISSUED BY:
_____________________
FREDRICK MUBANGA
Head-Public Relation
Road Transport and Safety A