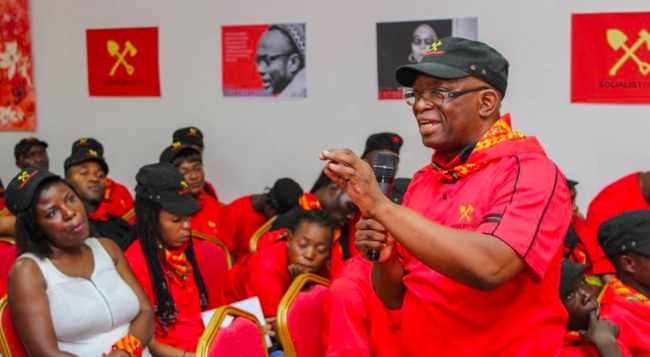 Responding on the question of colour and the left clenched fist.
THE SOCIALIST PARTY~ The red color and clenched fist debate
There has been sustained debate on the choice of the color red used by the Socialist Party of Zambia during the launch of the Party suggesting it was copied or usurped from other political parties.
Secondly, others have equally poured scorn on the use of the clenched fist to mean it belonged to the PF.
Red color, is a revolutionary color symbolising blood shed by the workers during the Russian revolution. It is the color of the working class which symbolises struggles. All socialists and other progressives home and abroad could adopt the use of red.
Again color can not be said to belong to any institutions or persons. The law in Zambia does not bar color to an institution or persons. In short it cannot be patented.
The clenched fist is a leftist symbol used by all leftist formations world over To suggest that the use of the clenched fist is stolen from another political formation is a simply a sign of the lack of ideological or political clarity.
All leftist formations in the world raise the left hand as they sing the Internationale or in response during sloganeering.
Ideological clarity is especially important to advance one's political path. Some political formations raise a right hand and clenched fist during rallies which symbolises rightist thinking.
Similarly, some political formations have also told the nation that they are a leftist formation but unfortunately only in their constitution and manifesto. All they represent is a capitalist formation.
Greed, competitive, individualist and consumerism tendencies. Their manifesto states that they ll give people decent salaries representing more money in the pockets and lower taxes. The opposite is true. The people's pockets are empty and have been taxed to death. The tendencies for profit maximisation is nothing but capitalist in implementation.
The use of a red colour by the UPND is natural in our view. However, ideologically a contradiction because the party pursues neo liberalist thinking.
It is this lack of ideological clarity and political thinking that has subjudicated our political direction as a country to only noise making and emptiness. It is only full of ichimwela or bustele (morale driven by political songs) and yet saying nothing.
The Socialist Party has ideological clarity and we make no apology that we are a Marxists Leninist political party.
We are a socialist formation with a conscious decision to agree with Choh, Osagyefo Nkrumah, Patrice Lumumba and other socialist progressives.
Until we become a country with politica