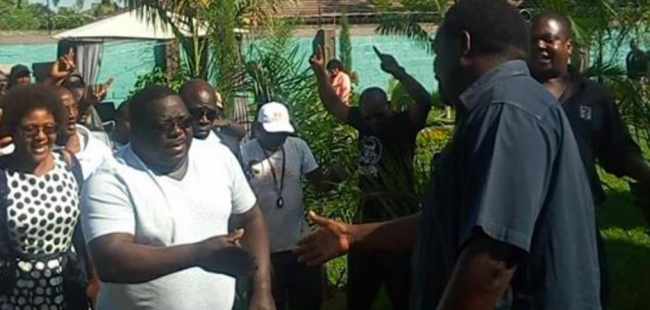 Lusaka. 30.03.2018.
National Democratic Congress NDC consultant Chishimba kambwili has been discharged from the University Teaching Hospital UTH.
The NDC consultant had been taken ill on Thursday to the highest referral health institution.
Dr. Kambwili was discharged from the UTH at 09.00 this morning.
Family members including his wife madam Carol Kambwili accompanied the NDC strong man as he was discharged from the UTH.
Dr. Kambwili has now returned to his private apartment in Woodland's where he is currently resting and spending Easter with close family member's.
The pf regime has in the last one week persecuted the NDC consultant on framed up charges.
Dr. Kambwili had his passport seized by immigration authorities a week ago.
He has faced a vexing legal battle to have his passport surrendered in order for him to access bail.
Dr. Kambwili is a big threat to the Lungu regime who have previously attempted to silence him politically.
The NDC strong man is yet to address his supporters, as he has been given strict bed rest in order to recuperate fully after a whirlwind of evil plans by the PF government.
@ courtesy NDC Media Team.