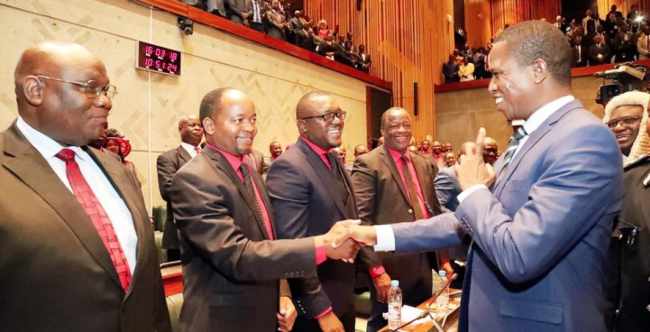 Teen Pregnancies, Early Marriages, Misapplication of Public Funds, Abuse of Social Media, Alcohol and Substance Abuse Irk President Lungu… As He Announces Steps Taken by Govt
President Edgar Chagwa Lungu says application of national values and principles is not a matter for government alone but a responsibility of every citizen as he notes a deterioration of morals in the nation.
During his address on the second session of the 12th National Assembly on the progress made in the application of national values and principles, President Lungu who is the first President ever in Zambia to present this speech to parliament noted that it is the responsibility of every citizen, family, community, institution, whether private or public, and the Zambian society at large to value and observe the nations values and principles.

The address by the head of state comes a year later after he made this update in 2017, President Lungu in his address today focused to highlight the progress made so far and measures taken to build a strong foundation for the application of our national values and principles on which he noted the nations identity and practices need to be anchored.
President Lungu said government is committed to ensuring that our country and its people are morally and ethically upright, however, he observed with great concern that there has been a deterioration of morals overtime.
"We have observed, with great concern that our morals have deteriorated over time. This is evidenced by the high prevalence of teen pregnancies and early marriages. We have also witnessed the growing trend in the misapplication of public funds, and abuse of social media. Of equal concern is alcohol and substance abuse as well as poor work culture, among others," President Lungu complained.
However, he noted that government has been putting measures and making strides to help restore moral sanity in sectors of society.
"In the public sector, government has developed codes of ethics to regulate the conduct and behaviour of public service officers. For example, the code of ethics for teachers is now in place and is regulating the conduct and behaviour of those in the teaching profession," he said.
President Lungu observed that morally upright teachers who are role models to the learners will, no doubt, produce disciplined pupils, with high moral standards and ethical values.
He added that government has developed the public officers ethics bill and state officers bill.
"These bills, once enacted, will strengthen the legal framework for guiding the scope, implementation and enforcement of morals and ethics among public and state officers," he explained.
And to further enhance good morals and ethics, President Lungu said government has developed a single vision for the public service which is "a smart and value-centred public service".
And President Lungu noted that inactivity among the youth especially has led them to resort to drinking, however he explained that government would not let this vice continue and was already making strides.
"In order to address the issue of inactivity among the youths, government has intensified the implementation of youth empowerment programmes aimed at equipping the youth with skills, equipment and start-up capital for income generating activities," President Lungu said.
He pointed out supporting 2,667 youth street vendors with loans, empowering 1,000 youths with motorized cargo tricycles, and provision of information and communication technology equipment for the establishment of business centres to 600 youths, across the country as some measures to address youth inactivity.
President Lungu added that in the field of sport that government is implementing the anti-doping programme.
Meanwhile to end child marriage President Lungu said government is working with traditional leaders as the cause stems from harmful traditional practices.
"To end child marriage in Zambia, government is implementing a five-year national strategy on ending child marriage targeting to achieve a 40 percent reduction by 2021," President Lungu said.
President Lungu added the introduction of a programme through ZNBC, on national values and principles to ensure that citizens begin to understand, appreciate and apply patriotism and the rest of the national values and principles in addition to various sensitization programmes.
And to enhance the country's democratic principles, President Lungu said government developed a political parties bill in 2017 in response to article 60 of the constitution.
He said the bill, once enacted, will provide for the registration and regulation of political parties and require them to uphold the tenets of democracy.
The head of state also went on to talk about strides made to reduce gender based violence and social injustice whih he said government was taking care of by ensuring development was being taken to all parts of the country.
"We are making strides to ensure that there is no discrimination in the conduct of our affairs and service delivery. We are building a Zambia where everyone has equal access to opportunities and services. We are not leaving anyone behind. Government is, therefore, implementing multi-faceted programmes to develop and empower our youths, persons with disabilities, women, children, orphans and the aged," he said.
Meanwhile, President Lungu noted that equally, corruption is a cancer which requires concerted and continuous effort to eliminate.
He said government has continued to build necessary capacities in governance institutions and other stakeholders for improved outcomes in the fight against corruption.
"For instance, the establishment of integrity committees in ministries, provinces and other spending agencies in line with provisions of the new anti-corruption act is ongoing. So far, a total of 61 committees have been created and are operational. Work is in progress to improve the functioning of the committees," President Lungu said.
The head of state noted that a nation without morals is like a ship without a compass and called for collective responsibility in the strengthening of the nation's principles and values.