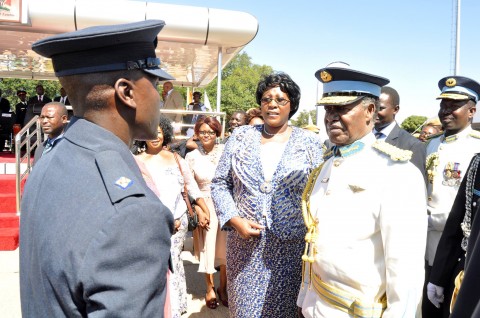 FREDERICK Chiluba Jr yesterday opened his defence before Lusaka magistrate Nthandose Chabala and denied stealing a cellphone valued at K8,500.
Magistrate Chabala placed Chiluba on defence on February 23 after she found him with a case to answer.
Chiluba is accused of stealing a phone from a family friend, Brenda Chisha, on September 2 last year but he pleaded not guilty.
It was alleged that Chiluba traded the phone for drugs in Chibolya compound.
In his defence, Chiluba denied stealing the phone and insisted that he returned it to the complainant.
He recounted that on the material day, he was having drinks with Chisha at Mommas Pub in Woodlands when he asked to use her phone to call his uncle because his phone had gone off.
The court heard that with Chisha's permission, Chiluba called his uncle who told him to call back after a few minutes as he was driving.
Chiluba said after few minutes, he walked to Chisha's table who had left to join her friends and again asked to use the phone again.
He told the court that he managed to call his uncle who said they meet him at the entrance of the pub.
Chiluba said he then went and put the phone on the table where Chisha was seated and thanked her.
He said when his uncle arrived, he got into his vehicle but that before they could leave, Chisha's friends followed him and asked where he had taken the phone but he told them that he left it on the table.
Chiluba said he then left for another club in Northmead with his uncle, and that whilst there, he received a call and was asked where he had taken Chisha's phone and he told the caller that he had left it on the table.
He said the following day whilst in Kabwata, he met Chisha's boyfriend who picked up police to arrest him even after he told them that he did not steal the phone.
Chiluba said he was later taken to Kabwata Police Station where he was arrested for theft of the same phone.
The matter was adjourned to March 23 for continued hearing.
TheMastOnline