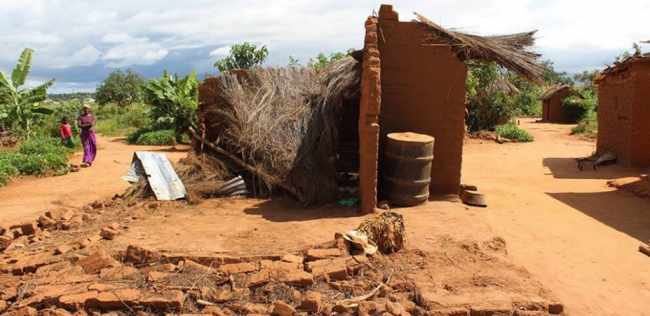 Monze District Commissioner Cyprian Hamanyanga has revealed his office has received a report from Hufwa-Hamapande Ward where 15 houses have collapsed due to heavy rains.
Mr. Hamanyanga tells Chikuni Radio news that his office and department of Disaster Management and Mitigation Unity (DMMU) will visit the site for fact finding soon.
Monze DC also mentioned that he has received a report from Moomba Constituency concerning about 1 house which has collapsed.
Meanwhile Mr. Hamanyanga says his office has already submitted report to the provincial team requesting for 50 tents to help the affected families across the district.
Itezhi -itezhi District
Also, More than 20 houses collapse following heavy rains in Itezhi -itezhi District
More than 20 houses have collapsed in Magazine area in Chief Kaingu's Chiefdom in Itezhi Tezhi district in central province.
Itezhi Tezhi ward councilor Amos Malumbe said the houses collapsed following heavy rains that have characterized the district during the last one week.
Mr. Malumbe said that families affected have been left homeless and need urgent aid from authorities.
The affected families have taken refuge with good neighbors and other relatives in the area.
Mr. Malumbe said that the houses collapsed because they were not permanent houses.
He has since called on Itezhi Tezhi Council to expedite the relocation the affected people so that they could build more permanent houses.
He said that it has taken five years from the time the residents of magazine where promised to be relocated to a new area but they are still in the same area.
Meanwhile, Farmers are still planting in Chief Chipepo's area
Chief Chipepo's Representative in Gwembe District Winard Jumbabula has revealed that some farmers in Chipepo area have taken advantage of the current rains and are still planting maize.
Mr. Jumbabula tells Chikuni Radio News that during the prolonged dry spell the maize that planted earlier did not survive even after the rains came and farmers have no option but the re-plant.
The Chief Representative however, has expressed worry that the maize being planted now may not reach maturity.
Meanwhile Mr. Jumbabula has disclosed that the chiefdom has not recorded any gun violence after the Public Debate in Munyumbwe last month which was organized by Chikuni Community Radio Station.