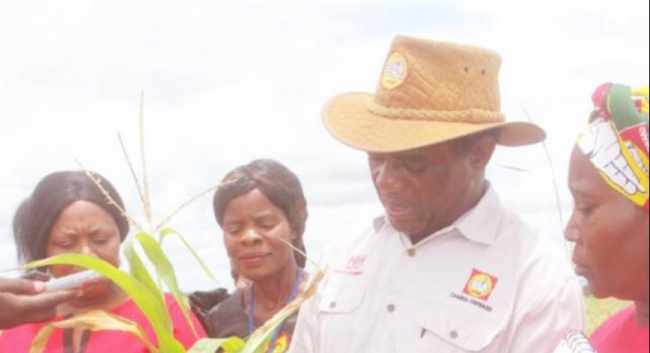 UPND President Hakainde Hichilema has directed the Party National chairman Mutale Nalumango to immediately write to Agriculture and Tourism permanent secretaries Julius Shawa and Liya Mutale respectively to stop the sale of NRDC and Chichele lodge or face personal legal consequences.
And UPND President Hichilema has reiterated calls for the UPND to transform itself into a grassroot party as the country is looking up to it for economic and social emancipation from the dracula rule of the patriotic front.
Addressing the media at the party secretariat on 07.02.2018, Mr Hichilema said the insatiable appetite for corruption and illegalities by the PF has reached alarming levels which needed to be curtailed.
President Hichilema said there is a need for the country to rise and protect its abundant natural resources from the PF appetite for personal enrichment and added that there is need for the UPND to take stock of all natural resources on behalf of Zambians.
He said the PF's intention to sale off the country's historical and natural resources would disadvantage the UPND government as the country would be in disarray hence his directive to the party secretariat to immediately write to the Ministries of Tourism and Agriculture to stop the rot.
" Am giving deputy SG and national Chairman up to 17:00hrs tomorrow. Write a letter to Shawa ( PS Agriculture ) as the controling officer to immediately stop the sale of the historical NRDC.That is our college and any attempts to corruptly sale it to AVIC International should be met with anger from the public.
Chairman, am not asking you, it's a directive.Follow it up with secretariat and make sure this is done before end of business tomorrow.If no action is taken by Shawa,the UPND will follow that with legal action.No more just talking now.We have to be action oriented and stop this nonsense", he told the cheering crowd.
He further revealed to the amazed crowd that government has through Eastern Province permanent Secretary Chanda Kasolo confirmed his earlier statement that the PF was selling off national parks and other natural resources.
President Hichilema said P.S. Kasolo has confirmed that the PF is selling off chichele presidential lodge in Mfuwe's Luangwa national park.
" In today's Mast newspaper,Kasolo is quoted as saying the government is placing Chichele lodge on a temporal sale.This is laughable.When I revealed this information two weeks ago,the PF and it's surrogates said I was lying.
"We don't just talk without research.Here it is now.They have confirmed.These people will finish our resources with their appetite for quick money".
" National Chairman and your team, before 17:00 hrs tomorrow,write to PS Tourism (Liya Mutale)to stop this 'temporal' sale of Chichele lodge or face legal action." said President Hichilema.
He said UPND lawyers worked hard during the treason and petition cases and are available again on behalf of Zambians to take the PF to court on its sale of Natural Resources and National Assets.
He also said Zambia cannot have a group of people that prides in shoddy deals.
"We as UPND need to find those resources intact once in government for the benefit of the country.We have international connections of genuine investors wanting to come and invest in the country but only when there is responsible and visionary leadership in the country and not this chipantepante", said HH.
President Hichilema said the country is ripe for the UPND to wrestle power hence the need for structures and secretariat to leave their comfort zones and bring everybody on board.
He advised the party to hit the road running and gather all Zambians that have been frustrated by the PF poor economic and social governance but are still on the fence into the UPND as party mobilisation waits for no-one.
President Hichilema appealed to all structures leaders to get serious with mobilisation programs and invite him in their localities to grace the programs.
President Hichilema recieved hundreds of new members who defected from FDD in Nyimba and PF in Kanyama this morning.
" Our vision is to make life better for every Zambian," said President Hichilema.
UPND MEDIA TEAM