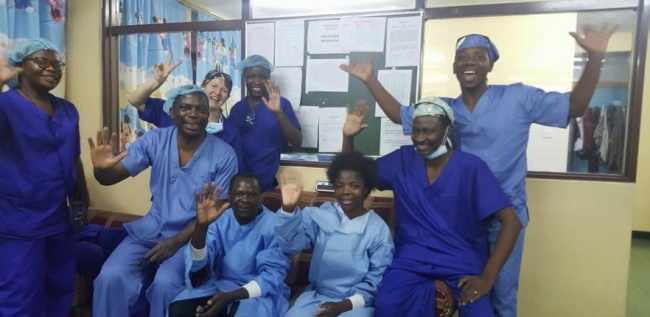 Dr Kachinga Sichizya wrote
Happening the UTH: Siamese twins successfully separated.
Zambia has new heroes! The much anticipated first separation of Siamese twins has ended successfully after close to 7 hours of surgery. We give God the glory. Please receive our new Champions who teams were led by Surgeons Dr Bvulani Bruce and Dr Robert Zulu and Anaesthetic team led by Dr Christopher Chanda, the nursing team led by CNO Josephine Chimpinde and Peggy Mashikati. Paediatricians Dr Sylvia Machona and Dr Kunda Mupesu Kapembwa have been there from the start. Mr Kantenga from the lab was also there. The team emerged from theatre to loud cheers of the support teams. Zambia celebrates! Glory to God.
---
The 30 member team of University Teaching Hospital (UTH) surgeons has successfully separated the siamese twins from Kawambwa who were joined on the abdomen after an operation lasting about seven hours.
The Doctors who started operating on the twins at 11:00 hours successfully separated them at exactly 16:58 hours.
Updating journalists on the operation, University Teaching Hospital (UTH) Mother and Newborn Hospital Senior Medical Superintendent Dr. Maureen Chisembele said the twins were expected to be removed from theatre to the ICU around 20:00 hours tonight.
And there was jubilation among doctors who were monitoring the operation from another room after the successful separation of the twins.
Media and other members of the public were not allowed to monitor the operation.
Bupe and Mapalo who shared a liver were conjoined on the abdomen.
Zambian top surgeons Professor Lupando Munkonge, Dr TACKSON Lambert,Dr Chadwick NGwisha and Professor Sultanov led the team of surgeons who operated on the twins.
QFM