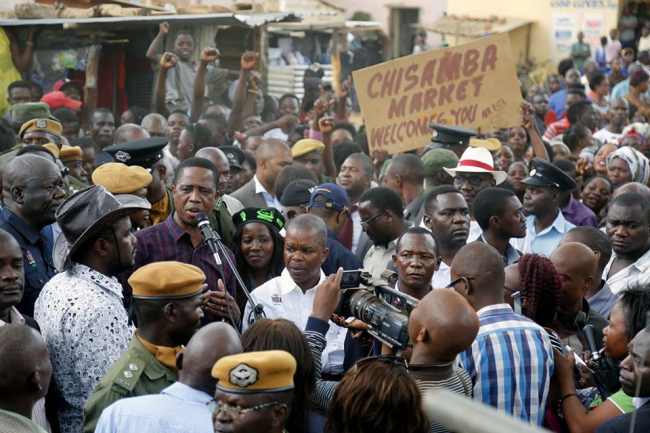 President Edgar Lungu says government will not be destructed from implementing developmental projects despite allegations by the opposition that the procurement process for projects is corrupt.
The President said the Patriotic Front government will continue executing its projects in line with the party manifesto and the mandate that were given to the party by the Zambian people.
He noted that the strategy of the opposition is to characterise every action of government as corruption as they have run out of ideas, agenda and policy alternatives hence they have developed a song of corruption with a long chorus in order to intimidate government into action so that when government does not perform then they say government is not performing.
The Head of State further indicated that procurement officers, controlling officers and Permanent Secretaries are strictly warned to adhere by laid down procedures adding that where there acts of corruption, due process of the law must take place.
President Lungu said this today when he conducted a tour of Keembe National Piggery Breeding Centre in Chibombo district of Central Province.
Earlier, President Lungu instructed the Ministry of Livestock and Fisheries to get the correct data on the farmers that have lost their pigs due to the African swine fever to help with compensation process.
And Director for Livestock Development Trust Renford Gombwa indicated that the Keembe National Breeding Centre is currently supplying quality breeding stocks of pigs to small holder farmers.
Dr. Gombwa said the breeding Centre was not affected by the African swine fever that was experienced in some parts of the country.
President Edgar Lungu says it is his responsibility to provide leadership to all Zambians regardless of who voted for him.
Meanwhile, President Lungu added that it is high time people accepted that the Patriotic Front is in power regardless of their political affiliation.
He noted this when he addressed a gathering at jubilee market in Chibombo district this afternoon, that those that are hallucinating of becoming President are wasting their time as the Patriotic Front is already in charge and providing leadership to all.
The Head of State indicated that providing leadership and services to the people is beyond politics hence, the need for those representing the people to work with government regardless of the party they belong to.
He noted that now is the time to work for the people unlike talking about elections that passed in 2016.
The President who thanked the people that voted for him in Chibombo also advised the gathering not to vote on tribal lines during the 2021 elections but to vote for people that will be able to deliver.
Earlier, Patriotic Front (PF) Secretary General Davies Mwila advised the people of Chibombo to work with government to foster development in the area.
PF