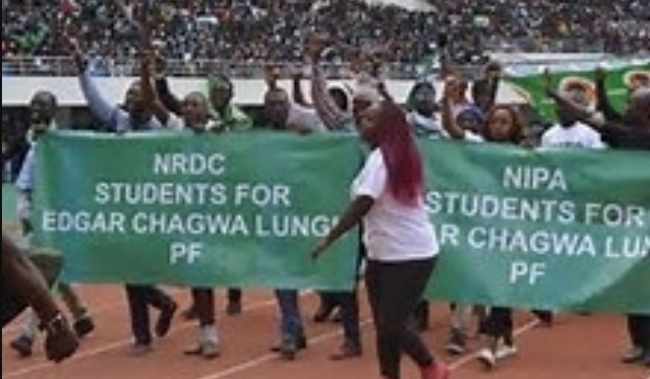 While the nation slept, PF signed an MOU with AVIC International for the "development" of the Natural Resources Development College (NRDC) land. An MOU whose details their own Permanent Secretary, Julius Shawa, could not explain to the public in a concise manner other than giving generalities about its content.
And this has been the case with all other shoddy deals shrouded in corruption such as the ZNBC and Topstar, road construction projects and infrastructure contracts in the country. We maintain that the PF leadership has mortgaged this country and if the citizens of Zambia are not alert to stop the rot, in a few years' time Zambia will be annexed to another foreign country.
NRDC is a government-owned institution like many others, that has suffered years of neglect. Instead of finding a partner that could rehabilitate and modernise this institution which is critical to our agricultural development, they decide to sell it to a foreign firm linked to road construction projects in the country as well as alleged links to construction of personal properties for very senior serving PF government officials.
In a normal government that cares, NRDC Great East Road campus needed to be modernised and expanded to be the bedrock of the much parroted economic diversification programme. Under UPND, we shall find an agriculture related strategic partner who will transform the institution into an agricultural diversification and value addition training centre dotted in many parts of the country.
We will ensure NRDC is reconfigured to ensure that its clients are not only school leavers but the host of neglected Zambian farmers who are hungry for knowledge to graduate from mere producers to manufacturers. For example, farmers who do not only want to produce groundnuts, but making peanut butter, not just producing raw cotton but produce yarn, not only produce sunflower but make sunflower oil.
Sadly PF will never have the brain to implement this around this kind of business model to take advantage of NRDC's strategic location to make it semi-autonomous and self-sustaining. Such a pivot in thinking would have benefited NRDC two fold vis-a-vis; value-added products being supplied to the many retail chains in Zambia, while training those interested in agribusiness.
At this rate, while we sleep, PF would have sold the University of Zambia, Copperbelt University, Evelyn Hone College and other strategic institutions in the country and turn them into shopping malls selling foreign products.
We once more want to reiterate that as UPND in government, we shall revisit and fully investigate all these agreements and we warn all those doing shoddy deals shrouded in corruption that these will be corrected for the benefit of our people, especially youths and women.
*Hakainde Hichilema*
*UPND President*