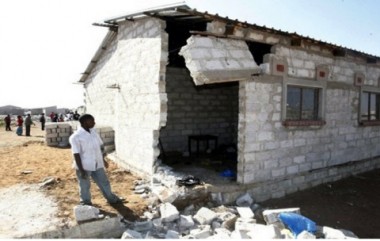 Breezefm added 2 new photos.
44 mins · Lusaka, Zambia ·
Chipata City Council has distanced itself from the demolition exercise of buildings built on top of Eastern Water and Sewerage Company pipe lines.
Chipata City Mayor Sinoya Mwale says he is against the decision by the Provincial Administration to demolish buildings allegedly built on top of the water pipe lines.
Mr. Mwale says President Edgar Lungu did not say that people's houses should be demolished, but that he gave a directive to clean the environment in an effort to combat the spread of cholera.
He says he will not support people who are fond of demolishing people's houses, stating that he will defend the people of Chipata, on behalf of the head of state.
He told Breeze News this morning that the situation is worrying because some of the affected people have legal documents from the council.
The Mayor says if the council issued building documents to the developers, there is no need to demolish their buildings.
He says Eastern Water and Sewerage Company should be blamed over the matter, because they allowed people to build houses without advising them.
Mr. Mwale says the utility company should start thinking of expanding its services to the people and not making recommendations that buildings be demolished.
Mr. Mwale says he was voted into office by over 68,000 people, whom he will defend in times of trouble, such as the issue of demolishing their houses.
He says the work of demolishing illegal structures should be left to the council, because that is part of their work.
Meanwhile, Mr. Mwale says that those who are saying council officials are corrupt should come out in the open and report corrupt individuals to ACC, the Anti-Corruption Commission.
He says his officers are torn apart by people who are saying they are incompetent in the execution of their duties.
Mr. Mwale added that Chipata City Council has qualified personnel who are competent enough to do their work.
He further says he will discuss with President Edgar Lungu to help street vendors with empowerment fund, because they have not been conducting their business for over three weeks.
Breezefm