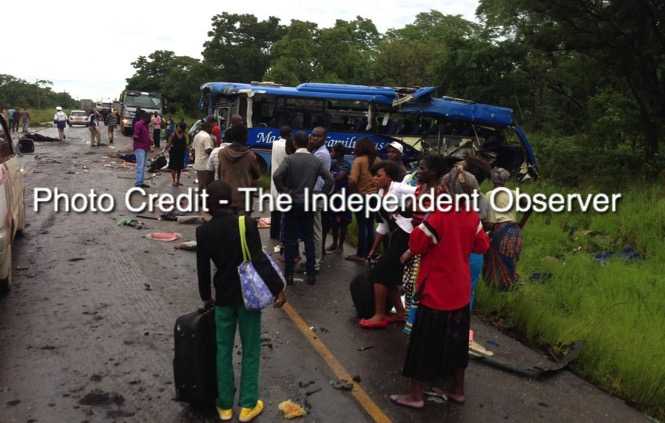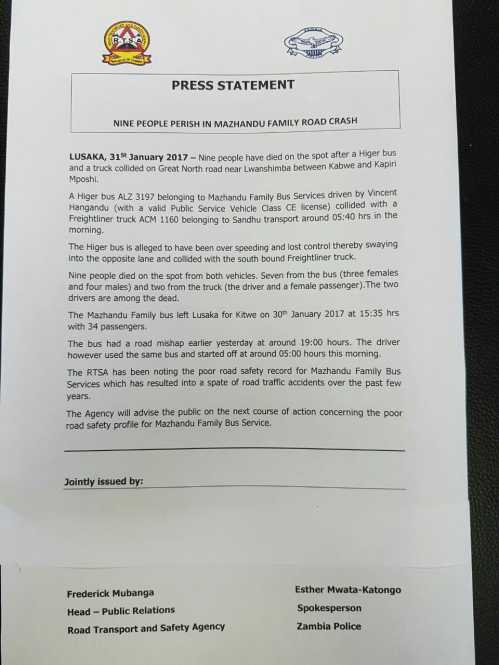 YESTERDAY'S POST FROM LUSAKA TIMES
Nine people have died on the spot after a Higer bus and a truck collided on Great North road near Lwanshimba between Kabwe and Kapiri Mposhi.
Police Spokesperson Esther Katonga said in a press statement today that a Higer bus ALZ 3197 belonging to Mazhandu Family Bus Services driven by Vincent Hangandu (with a valid Public Service Vehicle Class CE license) collided with a Freightliner truck ACM 1160 belonging to Sandhu transport around 05:40 hrs in the morning.
Ms Katongo said a Higer bus is alleged to have been over speeding and lost control thereby swaying into the opposite lane and collided with the south bound Freightliner truck.
She said Nine people died on the spot from both vehicles. Seven from the bus (three females and four males) and two from the truck (the driver and a female passenger).The two drivers are among the dead.
The Spokesperson noted that the Mazhandu Family bus left Lusaka for Kitwe on 30th January 2017 at 15:35 hrs with 34 passengers.
Ms Katongo said the bus had a road mishap earlier yesterday at around 19:00 hours. The driver, however, used the same bus and started off at around 05:00 hours this morning.
Road Transport and Safety Agency Public Relations manager Fredrick Mubanga (RTSA) said the agency has noted the poor road safety record for Mazhandu Family Bus Services which has resulted into a spate of road traffic accidents over the past few years.
"The Agency will advise the public on the next course of action concerning the poor road safety profile for Mazhandu Family Bus Service," Mr Mubanga noted.
SOURCE : LT