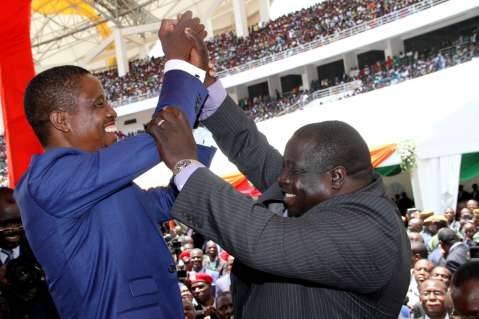 Chishimba Kambwili has posted the following on his facebook page :- "..I am not forming any political party, I am PF and that is it, I am not a coward neither do I give up. I am PF till death.."
Lusaka Times has the following detailed Post :-
ROAN Patriotic Front (PF) member of Parliament Chishimba Kambwili has pledged loyalty to President Lungu and called for unity in the PF.
Dr Kambwili, who said he would never leave the PF for any other party, asked ruling party members to work towards strengthening the party to "put its enemies to shame".
"We should not destroy PF and allow our enemies to win. We should work together and put our enemies to shame. I do not fight the President [President Lungu], I am a loyal member of the PF," he said.
Dr Kambwili said yesterday that he cannot betray the vision founders of PF had when forming the party.
"I appreciate calls by some PF cadres on the Copperbelt and Lusaka that I should form a political party, but I am PF and I will remain loyal to the ruling party and President Lungu," he said.
"Pamyenu ni pamyenu nangu pabipe shani (home is home no matter the challenges). Frustrations come and go but what is important is how you handle the situation you find yourself in," he said.
Dr Kambwili said one needs a personal reflection of their life when faced with frustrations.
He said no one is immune to problems and challenges and that people should endeavour to sort out their problems amicably.
He also urged members of the ruling party to work together and find lasting solutions to some challenges in the party.
Dr Kambwili said PF has a vision of helping the poor to come out of poverty.
He regretted that some people are allegedly peddling falsehoods about him.
The former Minister of Information and Broadcasting Services appeared before the party's disciplinary committee for misconduct.
LUSAKA TIMES