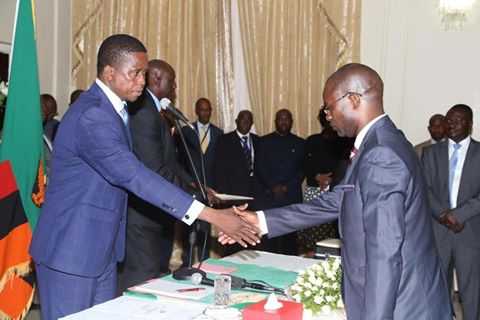 On January 27, 2017 His Excellency Mr. Edgar Chagwa Lungu President of the Republic of Zambia has appointed four Permanent Secretaries and transferred two with immediate effect.
President Lungu has also made two appointments at High Commissioner Level with immediate effect.
Those appointed as Permanent Secretaries are:
(1)     Mr Chola Chabala, Director Planning –(PERMANENT SECRETARY, MINISTRY OF
NATIONAL DEVELOPMENT PLANNING);
(2)    Mr Mushuma Mulenga – Acting National Coordinator- (PERMANENT SECRETARY,
PRIVATE SECTOR DEVELOPMENT, INDUSTRIALISATION AND JOB CREATION UNDER CABINET
OFFICE);
(3)   Mr Elias Kamanga, Deputy Permanent Secretary, Copperbelt Province -(PERMANENT
SECRETARY, COPPERBELT PROVINCE); and
(4)   Mr Jobix Kalumba, Provincial Education Officer, Northern Province (PERMANENT
SECRETARY, NORTHERN PROVINCE).
And President Lungu has transferred the Permanent Secretary at the Ministry of Tourism and Arts, Mr Stephen Mwansa to the Office of the Vice-President as Permanent Secretary in charge of Administration.
The President has also transferred the Permanent for Copperbelt Province Rev. Howard Sikwela to the Ministry of Community Development and Social Welfare in the same capacity.
Meanwhile, the President has appointed Dr. John Jafete Ngwata Phiri as High Commissioner-Designate to the Republic of Malawi and Mr Rayford Mbulu as High Commissioner-Designate to the Republic of Ghana.
The President has wished the newly appointed Permanent Secretaries and those appointed to serve in the diplomatic service success and God's blessings in their assignments.
SPECIAL ASSISTANT TO THE PRESIDENT
(PRESS AND PUBLIC RELATIONS)
STATE HOUSE