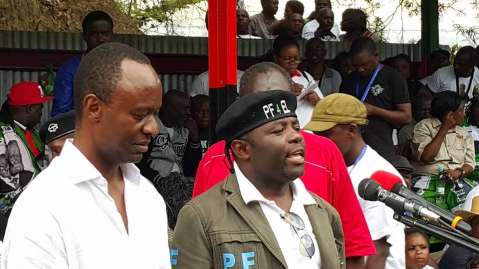 Wednesday June 15, 2016
Stephen Kampyongo has threatened and warned Hakainde Hichilema and Geofrey Bwalya Mwamba to stay away from Shiwang'andu constituency because the people of the area do not like insults.
And Mr Kampyongo said the Post Newspaper twisted what happened in Shiwang'andu on Monday when Patriotic Front and UPND cadres clashed.
Mr Kampyongo has threatened to personally deal with UPND cadres who were bringing down PF campaign posters if the police could not deal with them.
Addressing Patriotic Front (PF) youths at the PF party headquarters in Lusaka yesterday, Mr Kampyongo said the "stupidity and insults" by the UPND provoked his people which saw them clash.
Mr Kampyongo wondered why every time the UPND attempted to hold rallies in his constituency there was violence.
Mr Kampyongo said whenever other political parties conducted rallies in his constituency there were no incidents of violence except the UPND.
Mr Kampyongo, who is Shiwang'andu aspiring candidate on the PF ticket, said it was the UPND cadres who attacked and beat up his party members.
SOURCE: DAILY NATION