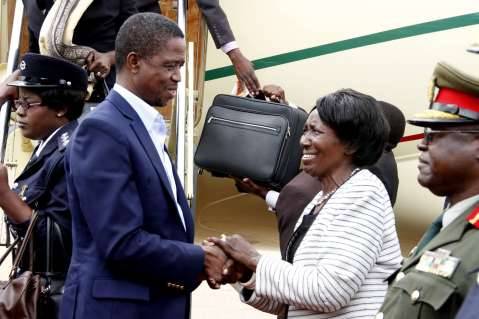 People have been beckoning me to talk about the wealth declaration of President Edgar Lungu which has doubled from from K10,980 to K23.7 million within 15 Months.
Honestly, I don't think that is what I would like to discuss in relation to President Lungu or HH. For the simple reason that, these politicians take a very careful consideration before they declare their worth.
It is naive to think that Edgar Lungu would declare the extra cash or assets he has received within this period he has been President. Surely, he may not be a good President but he is not dull to make that mistake.
Stop wasting your time on that, these assets all the politicians have declared are the most legitimate assets, but they could have more and if I had my way, I would go out to sniff the hidden assets than what has been declared.
I said Given Lubinda made money from FRA, do you think you will find that money laying around, or he would declare it?
If I were to dwell on the point of the figure (asset value) being double, I would talk about it in terms of how expensive life has become. The doubling of the value in the assets of the President and others reflects how expensive life has become.
It shows that, if you were poor in January last year, your poverty has doubled. While those who were reach are getting richer. (No wonder my debts have doubled) Therefore we should be discussing how to reduce the gap between the poor and the rich because it has become wider.
So start asking the President how he will share his wealth with the poor in the next 5 years since his policies are said to be pro-poor and yet he is doubling in wealth while the poor are getting poorer.
I would be happy to hear someone ask, why President Lungu allowed cabinet to increase his salary, just a few month ago, when he is so rich knowing the poor are getting double poor.
Honestly I though President Lungu is poor, especially that at one point he even helped himself with the money of a client (thing must have been bad like me). Maybe it would be better to ask how much President Lungu had when he was vying for a seat in Chawama in 2011. Did he have that much money to multiply to this magnitude.
Anyway, that is my comment.
Politics teyabana iyoo.
Chilufya Tayali – The Zambian Voice