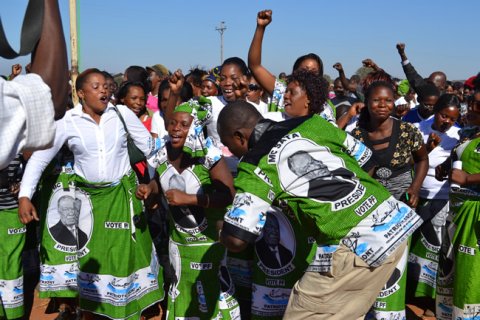 Scores of UPND members from Mulilansolo Ward in Kasama district have defected to the ruling the PF.
The defectors were led by UPND Mulilansolo Ward Chairman Alfred Bwalya
Mr Bwalya said they decided to join the PF because it is the only party with a vision to develop the country.
And PF Kasama Central aspiring candidate Kelvin Sampa, urged PF members to embrace new members in order to grow the party and promote the spirit of oneness.
He commended the new members for making a bold decision to leave the opposition party.
Meanwhile, The Zambian DNA says it will be costly to experiment with National leadership as the country goes to the polls on August 11.
Zambian DNA Spokesperson Spuki Mulemwa says President Edgar Lungu must be trusted with the Presidency because he has been tried and tested.
Mr Mulemwa said this in a statement issued to ZNBC News in Lusaka.
He noted that President Lungu has provided the required leadership to unite the nation.
Mr Mulemwa said President Lungu should be commended for enacting the amended constitution as promised during the last presidential campaigns.