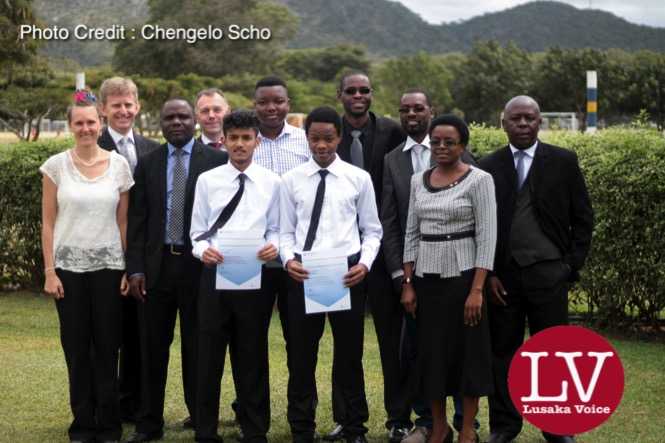 Mkushi, Zambia, Monday, 9th May 2015: Five students from Chengelo School in Mkushi have received Top in the World awards from Cambridge International Examinations to acknowledge their outstanding performance in the November 2015 Cambridge examination series.
The students achieved the highest standard marks in the world in the International General Certificate of Secondary Education (IGCSE) and 'A-Level' examinations. They were top performers in
IGCSE Business Studies, Computer Science, Design and Technology, and A-Level Computing and Psychology.
These students are:
Karan Patel- Business Studies IGCSE
Dalitso Moyo – Computer Science IGCSE
Munashe Kakenenwa Muyangwa – Design & Technology IGCS
Julu Nathanael Howard Lund – Computing A Level
Anna Jean De Wet – Psychology A Level
SPEECH BY THE MKUSHI DISTRICT EDUCATION BOARD SECRETARY, MR STEVEN KACHILIKO
I am pleased to address you all this morning as we officially celebrate the five Chengelo students who achieved the highest standard marks in the world in the November 2015 Cambridge International Examinations.
Allow me to take this opportunity to first congratulate Chengelo School for putting Zambia on the academic world map. This is no mean achievement and the nation is extremely proud of you. We are proud to house Chengelo School within the Zambian borders and are pleased with your continued impact on Zambia's leaders of tomorrow. It is our hope that your students will continue to raise the flag of Zambia higher wherever they go.
As a school, Chengelo's attainments over the last 28 years are praiseworthy as you have continued to shine in the Zambian education sphere. Constantly, Chengelo has thrived across the board producing excellent academic results nationally and now globally, as well as cultivating students that are firmly grounded in Christian principles and exhibit strong servant leadership attributes. You are a good role model and I encourage other schools across the country to emulate you.
Only last year, we were celebrating one of your students receiving the Top in the World award for a 100% perfect score in Mathematics. This year we are reveling over five awards of the same significance. What a remarkable triumph! Your service to Zambia is much appreciated Chengelo School; please keep being a witness to the light.
The Cambridge Outstanding Learner Awards Chengelo has accomplished are a clear illustration of the commitment and hard work your students and teaching staff are putting into soaring academically. I am aware that teachers are the least acknowledged people the world over but this morning I want us all to recognise their efforts and give them a round of applause for the great role they play in moulding us into responsible citizens.
To the Class of 2015 and our five outstanding achievers – Karan Patel, Dalitso Moyo, Munashe Kakenenwa Muyangwa, Julu Nathanael Howard Lund and Anna Jean De Wet, obtaining 1st position in the world is like scaling the heights of Mount Everest. Well done on attaining such a great milestone. I now urge you to soldier on with greater zeal. Show the world that Africa and Zambia in particular has enormous talent.
As you receive your awards remember that success is a community effort – it requires dedicated learners, educators, parents, government officials, service providers and the entire community. It also requires role models who, once successful go back to invest in their communities.
For you to have accomplished Top in the World awards and status, someone, somewhere, sometime, gave you a lift or an idea that started you in the right direction. You are now indebted to lift and help someone less fortunate just as you were helped.
I urge you to go out there and be the best that you can be. In doing so, you shall inspire us to work even harder to fix the challenges in the education system and attain more excellent results. I wish you well in your future endeavors and encourage you to put extra effort in your studies and impending careers.
To the students of Chengelo School, the pride of every parent is a child who is both progressive and successful in life. However, for this to be realised you need to be obedient to your parents and teachers, and disciplined and hardworking. I cannot over-emphasise the issue of discipline as it is the basis for all successes.
You are very fortunate to be at a school with hardworking, committed, qualified and supportive staff in addition to a good infrastructure and a conducive learning environment. Do not take this for granted, there are many out there praying for an opportunity like yours.
To those in the examination classes, I encourage you to emulate your friends. Do the best you can to achieve the highest possible grades in your subjects. It is possible as has been demonstrated here this morning. It is my hope that this time next year we shall gather here again to celebrate more of you obtaining the Top in the World award from Cambridge.
As people responsible for education in this country, we can learn from this experience that it is possible to achieve these remarkable results even in our state schools and that outstanding pupils should be acknowledged publicly as well.
I am pleased to be here and as a department in the District we shall continue to support Chengelo School.
In closing, I encourage everyone here this morning to become the new champions of development for Zambia. Keep in mind that education is a cardinal tool that will not only change your world but shall also empower you as an individual. Knowledge is power for when you have it; it resides within you, gives you the ability to influence your surroundings and cannot be taken away from you.
Thank you and may the good Lord continue to bless you and your labour.
CHENGELO STUDENTS COMMENTS ON RECEIVING THE CAMBRIDGE OUTSTANDING LEARNERS AWARDS
Anna Jean De Wet
Top in the World in Psychology
A-Level
"I am thrilled to be top of the world in these psychology exams, and am also encouraged in my decision to study psychology. In receiving this award I can't help thinking how grateful I am for my encouraging family, for Chengelo's supportive and opportunity-filled environment, and for my two psychology teachers' effort and enthusiasm. And I thank the Lord!"
Julu Nathanael Howard Lund
Top in the World in Computing
A-Level
"I'm utterly gob-smacked to have come Top in the World again. I've always loved Mathematics and enjoyed Computing but never thought I was good enough in them to do as well as I have. The credit should really be given to the learning environment that Chengelo provided and particularly to my classmates who were always challenging me and giving opportunities to grow. I hope that Chengelo continues to be a place of spiritual, physical and educational support for many years to come."